Na stáž do světa obřích bagrů. "Všechno tady musí navazovat," vidí stavařka
První pracovní zkušenost bývá stres. To, když se na člověka navalí úkoly, na které ho ve škole zkrátka nedokážou připravit. Nebo to bývá nuda – pokud se stážista dostane jenom ke kopírce a vaření kávy. Stavařka Zuzana Šebelová, stážistka v brněnské pobočce CTP, přiznává, že ona zažila to první. A je za to moc ráda. Už to bude skoro rok, co jezdí na stavby, chystá výběrová řízení a potkává se s dodavateli. Svým následovníkům se nebojí vzkázat: pojďte to zkusit také.
"Nebyl v tom žádný plán, já vlastně o CTP nejdřív vůbec nevěděla," začíná svoje vyprávění Zuzana, která na Vysokém učení technickém pomalu dokončuje inženýrský obor zaměřený na realizaci staveb. Někdy před rokem si řekla, že by bylo fajn začít se poohlížet i po nějaké praxi a podívat se na to, jak to funguje v realitě. "Mám i stavební průmyslovku, takže o oboru vím hodně, ale takové ty praktické věci mi chyběly. Zatímco kluci na stavárně chodili už při střední škole na brigády dělat nějakou manuální práci a pak na to navazovali na praxích, my holky jsme vždycky skončily jen v kanceláři," krčí rameny.
"Dívkám se praxe ve stavebnictví nabírá hůř. Zatímco kluci ze stavárny chodili už při střední škole na brigády dělat nějakou manuální práci, my holky jsme vždycky skončily jen v kanceláři."
K prvnímu setkání s CTP, firmou, pro kterou dnes pracuje, došlo na fakultní online burze pracovních nabídek pro studenty. "Připojila jsem se do místnosti, kde byla moc fajn slečna, která mi vysvětlila všechno o firmě i o tom, co bych mohla dělat. Dost mě to nadchlo, tak jsem se přihlásila na pohovor už rovnou s developerem a vzali mě," líčí Zuzana cestu, jakou se z ní stala stážistka na pozici projektového manažera. A také to, jak se dostala s vestou a helmou konečně na velké opravdové stavby.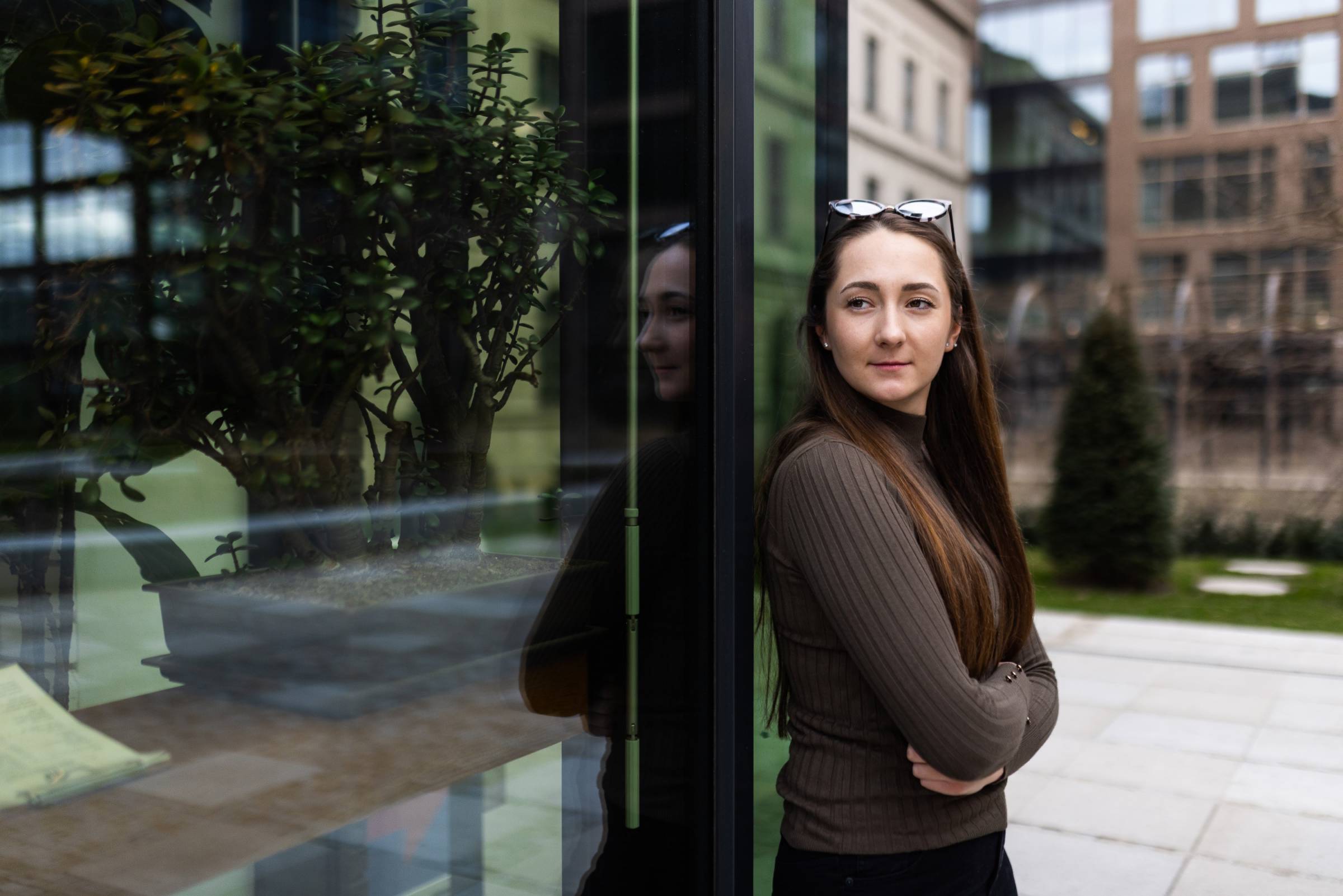 "Aha" momenty
I když studují přesně v oboru, s budováním průmyslových areálů se studenti příliš nesetkávají. Klasické rodinné nebo bytové domy jsou přece jen častější. O to větší překvapení to pro Zuzanu ze začátku bylo. "V první řadě mi došlo, že každá firma funguje jinak, takže i to, co jsem věděla, najednou neplatilo a potřebovala jsem chvilku čas, abych se zorientovala. A taky jsem se poprvé ocitla na opravdu velkých stavbách, dívala se na to, jak se ukotvují obří piloty nebo jak pracují velké stroje, které u stavby rodinného domu nevidíte," popisuje stavařka.
Během pár týdnů, a hlavně pracovně intenzivního léta, se stala pravou rukou projektového manažera. Ocitla se tak přímo ve víru velkého budování nového areálu na místě bývalého Zetoru v Brně-Líšni. Starala se o komunikaci s dodavateli a průběh tendrů nebo zpracování dokumentace. Došlo to až tak daleko, že o jedné z budov, která tady vyrostla, dokonce píše svoji diplomku. Dělá se jí to teď jednodušeji, když už si za vším, co slyšela ve škole, dovede představit něco konkrétního: situaci na stavbě, místo nebo technologii. "Kolikrát se mi stalo, že jsem nejdřív nevěděla, ale pak mi o tom kolega řekl, ukázal mi, co na co navazuje, a pak si říkám, a jo, o tom jsem už přece četla," dává příklad stážistka.
"Došlo mi, že každá firma funguje jinak. A poprvé jsem viděla, jak se ukotvují obří piloty nebo pracují velké stroje."
Návaznost všech činností na stavbě pro ni bylo velké téma. Aby všechno běželo a nedocházelo ke zpoždění, musí se vše pečlivě plánovat. A pak umět operativně jednat, když například vypadne dodavatel. "Člověk hlavně vidí, jak různé profese se tady potkávají a jak na sebe musí navazovat, aby všechno klapalo a nevznikaly proluky. Nebo taky to, jak se bojuje s nedostatkem materiálu, který ve stavebnictví kvůli covidu cítí úplně všichni," přidává další zkušenost Zuzana, která letošní rok věnuje psaní diplomky a v únoru ji čekají státnice. Co bude potom, zatím neví. Už teď si ale uvědomuje důležitost týmu, ve kterém člověk působí, když pracuje na tak velkých projektech. "Celou dobu jsem viděla, jak velkou má projektový manažer, který mi stáž vede, zodpovědnost, a došlo mi, že to není práce, kterou zvládne každý. Taky jsem ale viděla, jak pomáhá, když všichni fungují a rozumí tomu, co dělají," říká Zuzana, která si díky stáži vyzkoušela věci, na jaké by jinak nedošlo.
Sign up to our newsletter
Stay up to date with CTP's latest developments, industry insights, and exclusive offers by signing up for our newsletter. Join our community and be part of the future of industrial real estate.