Investors
CTP at a Glance
€13.0 BILLION

GROSS ASSET VALUE

7.5%

LFL RENTAL GROWTH

14.1%

REVERSIONARY POTENTIAL

2.0%

COST OF DEBT
CTP is ambitious, innovative, and growing fast. Our strategy of long-term ownership has always set us apart. As a build-to-own developer, we have a vested interest to ensure that our properties meet the highest possible standards to guarantee sustainable value generation over time. We build trust and lasting relationships with our clients and other stakeholders in alignment with our mission, strategy and long-term goals.
11.2
MILLION SQM
As at 30 September 2023 CTP reached 11.2 million sqm of GLA and the Group is on track to reach 20 million sqm of GLA and €1 billion rental income before the end of the decade.
1.9
MILLION SQM
CTP keeps expanding. We currently have 1.9 million sqm under contstruction.
20.7
MILLION SQM
Current CTP landbank totals 20.7 million sqm across Europe.
2022
CTP achieved significant milestones in 2022. We expanded our operations to Germany with the acquisition of a 1.6 million sqm GLA portfolio, connecting the CTPark Network from the North Sea to the Black Sea. We also accelerated our growth in Poland with significant land acquisitions with a potential 1.2 million sqm of GLA, and we increased our footprint in Western Europe with projects in Rotterdam and Austria. Other highlights of the year include joining the AMX and AEX® ESG indices, surpassing our GLA target of 10 million sqm before year-end, and installing 38 MWp of solar-generating capacity at our parks.
Earlier Milestones
2021
CTP launches its IPO on Euronext Amsterdam, the largest real estate IPO in Europe since 2014, and is included in the Euronext small cap index.
2020
CTP B.V. bonds rated Baa3 (Stable) by Moody's and BBB- (Stable) by S&P.
CTP issues its inaugural green bond.
2018
CTP's portfolio reaches 5 million sqm of GLA across CEE.
2013
CTP's portfolio reaches 2 million sqm of GLA
2007
CTP becomes the largest industrial developer in the Czech Republic, developing in, among other locations, Plzeň, Brno and Ostrava.
Big Numbers
€1.6 BILLION

AVAILABLE LIQUIDITY

€15.28

EPRA NTA

€0.54

EPRA EPS

4.2X

INTEREST COVERAGE
Business Model
Our strategy of long-term ownership—and the commitment to sustainable growth and communities that goes hand-in-hand with that strategy—has always set us apart. The synergies of our activities come together in our Parkmaker "wheel of growth" business model, which consists of two interconnected core business units—the operator and the developer—integrated with our new energy business, which generates renewable energy for our parks and clients.
As a developer, we mobilise our landbank with in-house teams to build smart and sustainable buildings and parks, while maximising our Yield on Cost. As operator, we maximise value by providing the complete package of Parkmaking services to our clients. Our commitment to sustainable portfolio management, including ISO certifications for environmental and energy management, ensures a positive impact on the environment. Our energy business is straightforward. Developing rooftop solar power stations at scale creates a profitable revenue stream for CTP while at the same time providing energy security to our clients, reducing their overall cost of occupancy, and furthering their own sustainability goals.
1.
Developer
Mobilising the landbank with in-house teams helps maintain industry-leading YoC.
2.
Operator
Maximising value by providing the complete package of Parkmaking services.
3.
Energy
Generating renewable energy on-site boosts revenues and sustainability.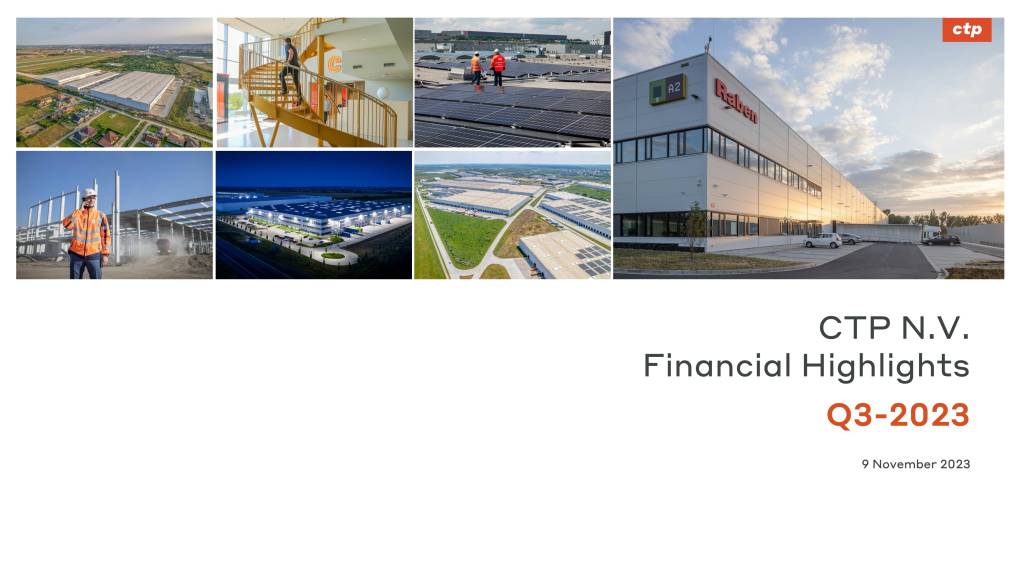 Financial Results
Our Q3 2023 Results
On Thursday, 9 November 2023, at 9am (GMT) and 10am (CET), CTP announced the company's Q3 results through a video presentation and Q&A session for analysts and investors, via a live webcast and audio conference call. For details, please see the press release. To view the webcast recording, please here.
View webcast