CTP DoksyRace takes place every year at Machovo Jezero in the beautiful Czech Countryside. This year, we're putting on the Real Estate Cup with Cushman & Wakefield. C'mon, Get UP!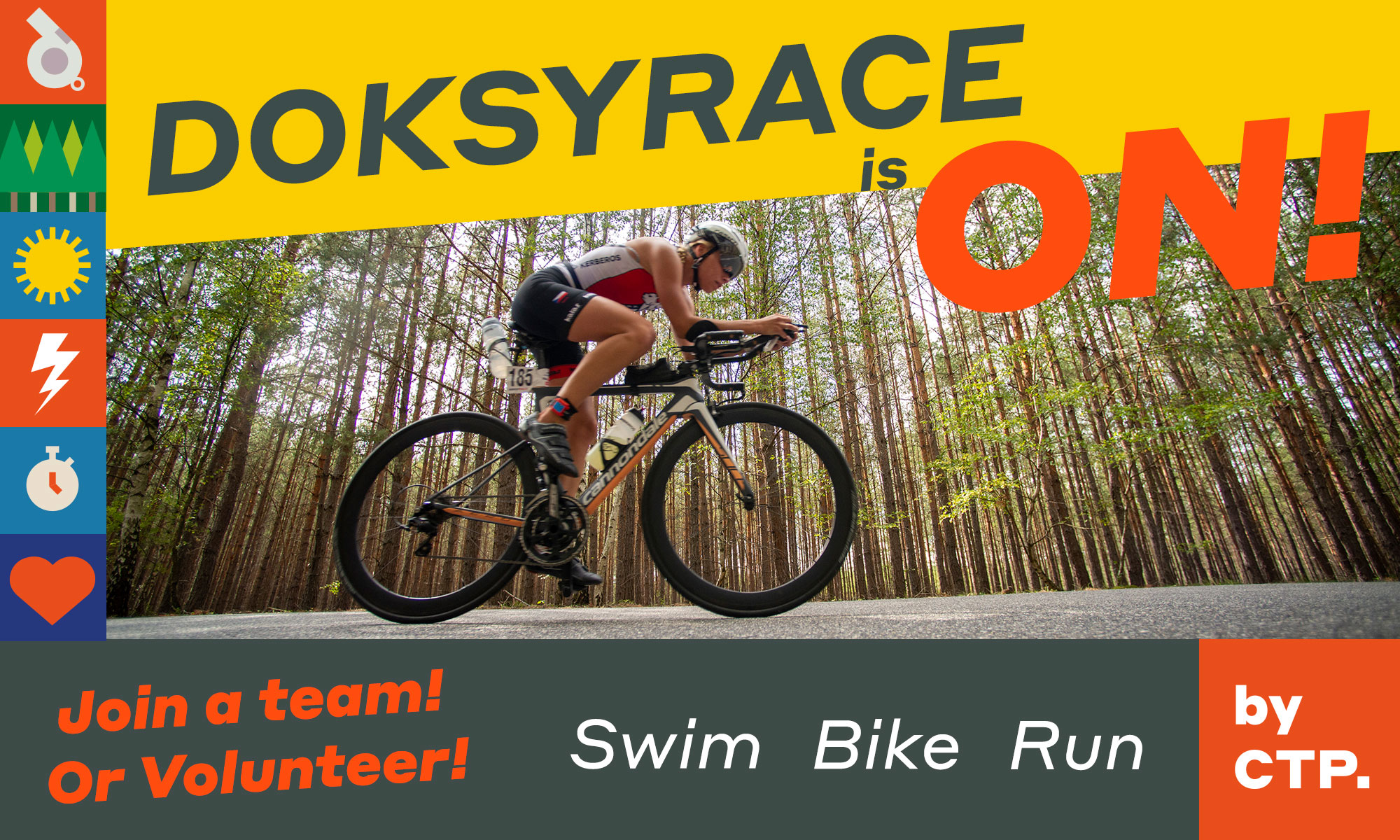 Get up for CTP Doksy Race 2020!
(Watch the Movie)
Join as a:
Participant : if you are doing the training, you gotta sign up now!
Team: do only part: 2k swim, or 1 leg of the 90 km biking, or 1 leg of the 21 km running
Guest : come and cheer your friends and family on
Volunteer : we always need help: handing out water bottles, food packs, or holding the finish line banner
to become part of the swim-bike-run race, enjoy beautiful Czech countryside, family-friendly program, meet business partners.
When: Sunday,  13.9.2020
Where: near Lake Mácha (Machovo Jezero),  a short drive from Prague. See this Map
Please contact daria.anikina@ctp.eu for more information on how to sign up
About DoksyRace 2020:
This year, CTP has joined up with Cushman & Wakefield to put on the Real Estate Cup. You can choose to join only the DoksyRace, or also take part in the Real Estate Cup. Special winners prizes will be awarded for both the main competition and the smaller Real Estate Cup.
If you aren't a full half-triathlete (let's face it, not many of us are) but are a good swimmer, biker, or runner you can still take part.
You can join as an individual to do the whole thing, or as part of a relay team.  You can make your own team, or just tell us what you are capable of doing, and we can put you on a team. We are very flexible on how you set it up.
Swimming: Swimming is 2km and you'll need to do the whole thing
Biking: you can join to do the whole 90km, or only a leg of either 30 or 60k
Running: you can join to do the whole 21 km, or only a leg of either 7 or 14 km
Family Fun:
Doksy, on the side of the beautiful Machovo Jezero, is a great place to take your family, and theres tons to do at the race.
Kids can take part in the 'kids races' and compete in different age categories. And they win prizes!
Plus, you could take a boat cruise and we'll have kids entertainment on site all day.  As part of the Real Estate Cup, we are creating a CTP Village, where we'll have food and beverages and a nice place to relax, talk or just hang out.
Please contact daria.anikina@ctp.eu for more information on how to sign up