CTP Insights: 7 Reasons Why Poland is the Next Investment Destination
Investing in a stable economy with numerous business opportunities is a wise decision, and Poland ticks all the right boxes. Poland has been economically outperforming many other European countries in recent years [1], with private consumption accounting for 57.8% of its Nominal GDP (as of September 2022) [2]. It is currently ranked 4th globally for sourcing, nearshoring, and reshoring and 1st for EU companies [3]. Additionally, the country has an English-proficient and skilled labour force, coupled with a relatively low average salary of workers [4]. This cost advantage provides an opportunity for companies to lower their expenses and expand their operations. With a growing highway and motorway network [5], businesses can transport goods across Poland and other European countries, like neighbouring Germany.
This proximity to EU markets lets companies maximize their potential. Poland is definitely worth considering as an investment destination for businesses looking to expand their operations and make a long-term investment in a growing economy.
1. Strategic location
Poland shares a border with Germany, which is the biggest economy in the European Union. It also borders with other developed economies in Central and Eastern Europe. Poland has been quickly developing its transportation infrastructure, including roads, railways, airports, and seaports. The country is situated at the intersection of two major transportation routes: the north-south and east-west lines. This makes it an essential location for transportation in Europe. Warsaw, the capital of Poland, is well connected to major European cities, such as Berlin (575 km), Prague (640 km), and Vilnius (475 km). As a result, Poland has a strong position on the logistics map of Europe.
2. Proven attractive market [6]
Poland is a leader in the Central and Eastern European region for greenfield investments, ranking third in Europe. The fact that 94% of investors are willing to re-invest in Poland is a significant proof of their trust in Polish economy. What's even more impressive is that the willingness to re-invest is growing every year. Despite the difficulties caused by the Covid-19 pandemic, Poland managed to attract new foreign investments. This helped the country move up one spot from 7th to 6th place in the ranking of European countries that attract the most investments. It is impressive because only a few countries saw an increase in foreign investments during the pandemic. This proves that Poland remains an attractive location for businesses to invest and grow, even during difficult times.
3. Skilled and affordable workforce [7]
One of Poland's biggest strengths is its people, who are known for their strong work ethic, ambition, and loyalty. This is reflected in the country's high ranking in the PISA assessment, which is an international evaluation of students' skills. Poland is ranked third in this prestigious ranking. A remarkable 92% of Polish citizens aged 25-64 have completed secondary education, placing Poland fifth among all the OECD countries. This figure is well above the OECD average of 78%. Additionally, Poland ranks fourth in Europe for the number of students enrolled in higher education, with almost 1.3 million students currently studying in the country.
Another advantage of Poland is its English-proficient labour force and cost competitiveness in the transportation and storage as well as manufacturing sector. Labour rates in these industries are around one third compared to Western Europe. The capital city, Warsaw, has a high percentage of its population employed in logistics and manufacturing. This all makes Poland a natural industrial production and logistics hotspot in Europe.
4. Modern warehouse space [8]
The industrial warehouse market is the fastest-growing sector in Polish commercial real estate. The e-commerce industry and multi-channel sales models used by traditional retailers have been fuelling this growth. The pandemic has further sped up this trend, resulting in a surge in demand for industrial & logistical warehouse space. This led to a record demand of approximately 7.1 million square meters in 2021. About three-quarters of the completed deals were new leases and extensions.
5. Nearshoring investment potential [9]
Nearshoring is becoming increasingly popular among companies instead of offshoring, and Poland benefits from this trend for various reasons. First, it has a skilled workforce available at competitive rates. Second, Poland is geographically close to the major consumption markets in Western Europe. Third, it has well-developed connectivity and infrastructure. By investing in Poland, companies can ensure stability and predictability of supplies.
6. Smart incentives [10]
Poland offers various investment incentives for businesses, such as exemptions from local taxes and charges, with real estate tax being of primary importance. Governmental grants are also available through the Program for supporting investments that are major for the Polish economy between 2011 and 2030. Moreover, there are investment incentives for business activities located within 14 Special Economic Zones (SEZ) that offer Corporate Income Tax (CIT) exemption up to 50% of the investment expenditure. Additionally, land with essential infrastructure is readily available within the SEZ.
7. Accessibility & pro-business approach
Poland's government and local authorities aim to make the country a business-friendly destination and promote it as an attractive location for investment. They welcome new investors in their regions and strive to make the process of setting up a business in Poland uncomplicated. Moreover, getting the necessary permits and allowances to start operations is a fast-tracked process in the country.
In conclusion, investing in Poland can be a great opportunity for businesses looking to expand and grow. With a highly skilled and motivated workforce, attractive investment incentives, and a government that prioritizes making Poland business-friendly, there has never been a better time to consider bringing your business to Poland. With 10 CTParks currently operating in the country and an additional 4 parks set to be built in the near future, businesses have a range of options for locating their operations in prime industrial areas across Poland. Whether you choose to set up in Warsaw, Katowice, Zabrze, or another CTPark, investing in Poland is a wise decision that leads to long-term success for your business.
Sources:
[1] Macrotrends.net
[2] HTTPS://WWW.CEICDATA.COM/
[3] Report: "A generational shift in sourcing strategy – A global and European deep dive into nearsourcing, nearshoring and reshoring in the post-pandemic world" (in partnership with Maersk)
[4] Average salary of a blue-collar worker in Poland is almost 1/3 of the same cost in neighbouring Germany – Economic research Institute
[5] General Directorate for National Roads and Motorways
[6] PAIH data
[7] PAIH data
[8] EY: THE POLISH REAL ESTATE GUIDE 2022
[9] Report: "A generational shift in sourcing strategy – A global and European deep dive into near-sourcing, nearshoring and reshoring in the post-pandemic world" (in partnership with Maersk)
[10] PAIH data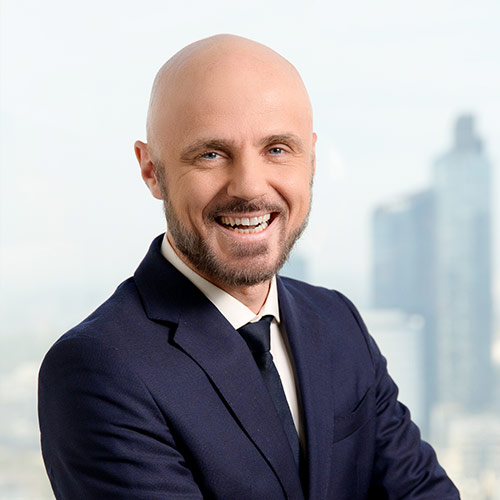 Przemysław Wardęga
Head of Marketing, Poland
He has over sixteen years of experience in the broadly understood real estate area. Experienced in crisis management and change communication as well as public speaking. He graduated from the London School of Public Relations. In private life: over ten years a vegetarian. Przemek is a mountains lover and has a passion for running, taking part in marathons and ultramarathons (including the famous Two Oceans Marathon in Cape Town, South Africa)
Sign up to our newsletter
Stay up to date with CTP's latest developments, industry insights, and exclusive offers by signing up for our newsletter. Join our community and be part of the future of industrial real estate.