Kavárnu? Ne díky, říkali Rebelbean a pak vybudovali tu největší
Nakopnutí, uklidnění, setkání s přáteli. Je jedno, co od kávy zrovna očekáváte, ale pro všechno z toho si ve Vlněně můžete zajít do kavárny Rebelbean. Funguje tady už od doby, kdy byla místo dvorany ještě obří díra do podzemního parkoviště. Dnes je kavárna tepajícím srdcem Vlněny, které se podílí skoro na každé akci, co se tu koná. Přitom to, že vůbec vznikla, chtělo od zakladatelů velkou dávku odvahy.
Proč? Protože když se do jejího budování spolumajitelé Michal Stec a Jan Špalek pustili, bylo to velké sousto. Do té doby fungovali hlavně jako velkoobchodní pražírna a do vlastních podniků se nehrnuli. Už "jen" vytvořit velkoobchod byla výzva. "S Honzou jsme se znali z různých kávových brigád, on byl zaměstnaný v Gill's Coffee, kde se později pražila i naše první zrnka," vzpomíná Stec na období, kdy Brno a vlastně i celé Česko žilo velkým kávovým boomem. Kavárny vznikaly jedna za druhou, najednou se kde kdo začal ptát, "co máte na mlýnku", a velké pytle s vakuovanou tmavou italskou směsí vyměňovat za výběrová zrnka. "Chtěli jsme si to dělat po svém. Nebýt něčí zaměstnanci a mít kompletní kontrolu nad tím, s čím pracujeme, jak a komu zrnka prodáváme a jak náš brand formujeme."

"Dealování" na Veveří
Už tehdy bylo jasné, že boom nebude věčný a nastane fáze, kdy se množství menších značek protřídí. Rebelbean se nakonec zařadili mezi vítěze pomyslného závodu. I když to zdaleka neznamená, že to bylo jednoduché. "Z Gill's jsme se později museli přesunout do Střelic za Bwindi Coffee, kde jsme byli dva roky, než jsme vybudovali pražírnu v Jundrově. Fungovalo to tak, že jsme si balíčky s kávou předávali z auta na Veveří a já je pak rozvážel po Brně," líčí Stec dobu, kdy se chtěli s kolegou zaměřovat hlavně na dodávání zrnek do jiných podniků a na vlastní nemysleli. Věděli, jaká je to starost. "Naše začátky obecně byly hrozně náročné, neměli jsme moc peněz. Co jsme si půjčili, to jsme dali za první paletu kafe a stánek, se kterým jsme jezdili po akcích. A pak jsme dva roky pracovali na tom, abychom měli nějakou historii pro vyjednávání v bance. A když jsme do ní tehdy přišli poprvé, tak se nám nejdřív vysmáli," povídá Stec a dnes už se směje taky.
"Nechtěli jsme být jen další kavárnou v centru, chtěli jsme něco, co by se odlišovalo."
Zlom přišel nečekaně. Oslovili je totiž známí s tím, že otvírají na Veveří barber shop a potřebují někoho, kdo by jim tam zařídil kavárnu. Stec si myslel, že jde opravdu jenom o vybavení, jenže on se tím myslel i provoz. Takže najednou měli vlastní prostor, pracovali s vlastními produkty a pořádali kávové degustace. A zalíbilo se jim to.
Jako ve Státech
Nakonec jim pomohla i jedna z bank, která měla program pro začínající podnikatele. A držela je taky chuť pořád něco budovat a posunovat se dál. Když se v roce 2017 Michal Stec vrátil ze svatební cesty z USA a viděl, jak tam kávová kultura kvete, cítil najednou potřebu mít vlastní velký podnik, kde budou Rebelbean moct ukazovat, co všechno umí a jak ke kávě přistupují. "Nechtěli jsme ale být jen další kavárnou v centru, chtěli jsme něco, co by se odlišovalo. Do Vlněny jsme se dostali díky Láďovi Velebovi z Mitte – původně jsme chtěli prostor, který už si ale vyhlédl Oracle, a pak se nám zalíbil tento – má okna po celé délce a je hezky průchozí, dá se tady dělat živý provoz," popisuje Stec a ukazuje rukou kolem sebe. A dnes už i naproti. Kromě velké kavárny má Rebelbean ve Vlněně ještě malou sestřičku, kávový bar v coworku Clubco. Prostor si obecně opanovali, jejich kávu a občerstvení potkáte snad na každé větší akci v areálu.
Stec sám přiznává, že takové budování byla nejdřív výzva. "Banka i CTP nám dali velkou důvěru," pokyvuje a vzpomíná na to, jak v den otevření před třemi lety přišel do prostoru ve čtyři ráno a ještě se tady pracovalo na úpravách, které se dokončovaly až za provozu. Opening party pak trvala tři dny a živost a ruch odsud už nikdy neodešly.
Komunita na prvním místě
Při vybavování prostoru, kterého byl díky svojí fotogeničnosti po otevření plný Instagram, se Rebelbean a jejich architekt inspirovali právě ve Spojených státech. Nechtěli plyšové polštářky a teplo babiččiny kuchyně, ale vzdušné místo, které ladí s pracovní energií areálu i mladého studentského města. A dnes to promítají i do všeho, co tady organizují.
"Myslím, že firmu našeho typu tvoří hlavně komunita a akce, na kterých se všichni potkáváme."
Kromě kávových degustací se pražiči kávy spojují s vinařem Janem Stávkem nebo naturálními vinaři a pořádají akce, na kterých nabízejí dobré jídlo, drinky a hudbu. "Záleží nám na vazbách a dlouhodobé spolupráci, podle toho si i vybíráme, kam naši kávu dodáváme. Myslím, že firmu našeho typu tvoří hlavně komunita a akce, na kterých se všichni potkáváme," povídá muž, který nemá rád kávový snobismus a poučování lidí. "Jasně, že je naše káva výborná, pochází z různých skvělých lokalit po světě, promytá nebo jiná, ale beru to jako její základní vlastnost, ne přidanou hodnotu. Ta se tvoří někde jinde."
Rebelbean za osm let existence v mnoha směrech vyrostli. Z původních několika balíčků měsíčně dnes praží něco ke dvěma tunám kávových zrn. A ze dvou lidí je jich najednou víc než 50. Z půjčených prostor a rozvážení balíčků se dostali až k tomu, že mají vlastní velkou kavárnu ve Vlněně, menší v Jundrově, bistro v Kiwi.com a před pár dny otevřeli další prostor s názvem Bzzzukot na kraji Židenic a Juliánova. Teď prý bude na chvilku pohov, zakladatelé by se totiž rádi zaměřili na vylepšování toho, co už udělali. Snaha navazovat pevné vztahy a budovat komunitu bude toho všeho součástí.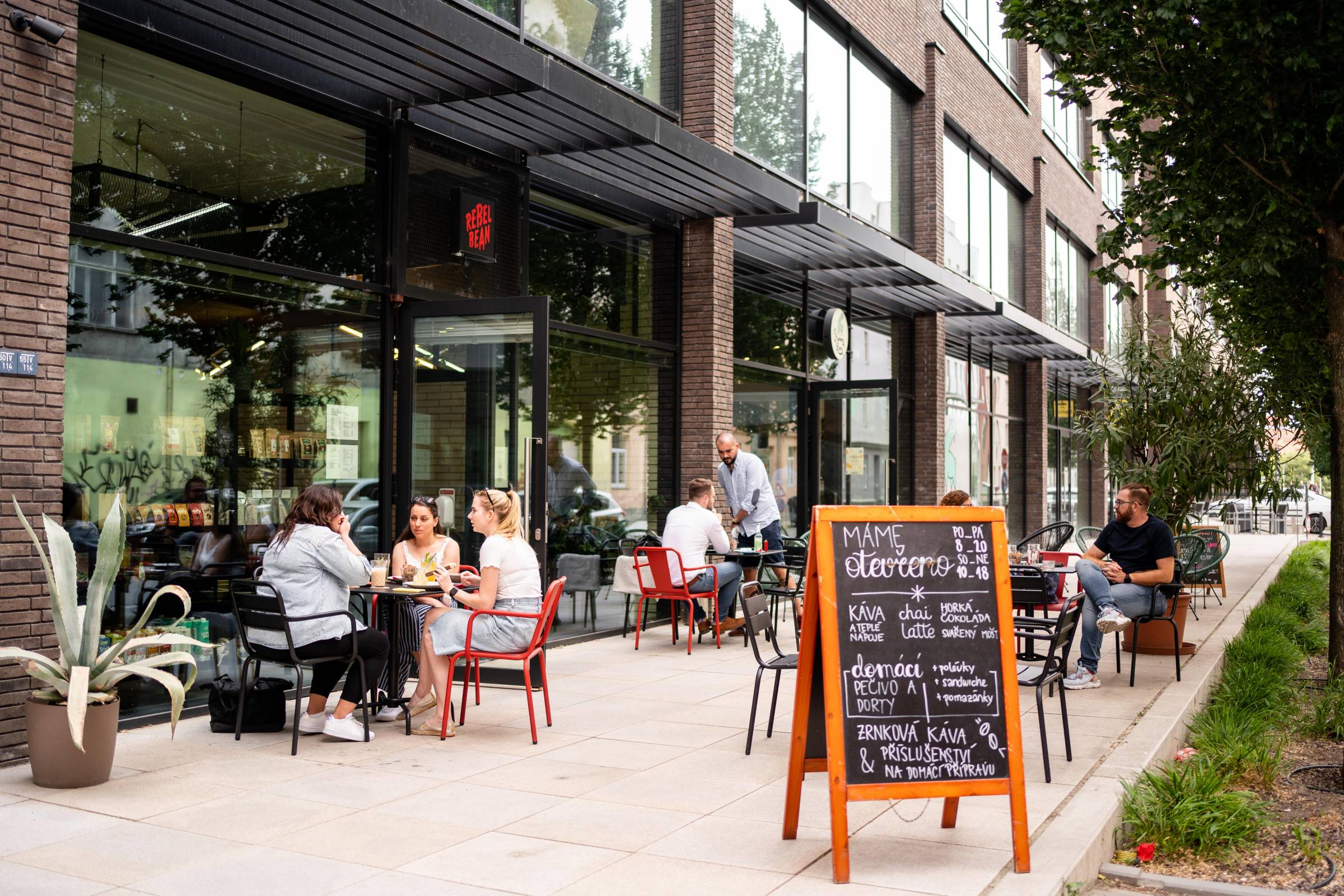 Rebelbean
Sign up to our newsletter
Stay up to date with CTP's latest developments, industry insights, and exclusive offers by signing up for our newsletter. Join our community and be part of the future of industrial real estate.