I kanceláře se přizpůsobují. Lidé chtějí víc světla, prostoru a variability
Ještě pár let zpátky byl "home office" vzácným benefitem, lidé měli v kancelářích svoje pevné místo a vybavení se soustředilo na dvojici stůl a židle. Jenže časy se mění. Covid, snaha udržet si dobré lidi i čím dál větší zohledňování vlivu na klima mají svoje dopady také na to, jak žijí zaměstnanci v kancelářích. V byznys parku Spielberk je to patrné na postupné obměně a vylepšování všech kanceláří.
 Seznamte se, Veronika Chlápková, stavařka. To jí prochází rukama všechny plány kanceláří při stěhování nových klientů nebo návrhy těch firem, které chtějí vylepšit stávající pracovní prostředí. Jestli někdo ví, jak vypadají a čím mají být vybavené nejlepší kanceláře současnosti, je to právě ona.
 "Mám na starost výstavbu. Do jednání s klienty vstupuju ve chvíli, kdy začínají mít jasnou představu o tom, co by v kancelářích chtěli, a já jim pomáhám s technickým zhmotněním této vize. Všechny parky máme nachystané ve stavu 'core and shell', takže do nich už nejde zařadit třeba vlastní nové schodiště, ale nabízí to spoustu prostoru pro kreativitu architektů, které si většinou najímá klient. My pak spolupracujeme, aby si všechno sedlo stavebně i architektonicky, vizuálně a uživatelsky," vysvětluje Chlápková, která je u prvních jednání a pak hlídá průběh prací i termíny.
"Rekonstrukce v Atlas Copco se dá použít jako dobrý příklad toho, jak vypadají trendy v kancelářském vybavení a designu."
Poslední velkou akcí pro ni byla rekonstrukce kanceláří české pobočky švédského průmyslového giganta Atlas Copco. Firma sídlí ve Spielberku léta, v nejvyšší budově areálu má pro sebe už devět pater, kam dochází kolem 500 zaměstnanců. Protože požadavky zaměstnanců i managementu na pohodlí a funkčnost se mění, předělávají se tady hned čtyři patra. "Největší díl práce se týkal druhého patra, kde chtěl klient vytvořit reprezentativní prostor pro online i offline setkávání a také nové zasedačky pro společnou práci interních týmů. V dalších patrech jsme se soustředili na otevřené prostory, zasedací místnosti a obecně jejich zpříjemnění," popisuje Chlápková. Původcem řady změn byla proměna práce zaměstnanců. I v Atlas Copco dnes fungují hodně z domu, takže v nových kancelářích se přešlo na systém sdílených míst a jejich velké variability.
Když se hýbou židle, hýbou se i kabely
Prakticky to vypadalo tak, že specialisté CTP, majitele parku, nachystali stavební podklady, příčky a inženýrské sítě a po nich nastoupili architekti se svými návrhy. Co se jednoduše řekne jednou větou, ale fyzicky znamená týdny práce a přemýšlení. "Největší výzva je pro nás v takových případech vzduchotechnika – v předchozím uspořádání prostor vedla s ohledem na rozmístění pracovních míst jinudy, proto jsme ji museli předělat. To samé se týká datových kabelů nebo elektrického vedení. Klient a architekti si řeknou, že potřebují jinak zásuvky, a na nás vždycky je vymyslet to tak, aby to všem vyhovovalo," zdůrazňuje Chlápková.
 Konstrukce budovy přitom s budoucími úpravami počítá. Něco se dá vést pod podlahou, která je standardně zdvojená, má dutinu a instalace se dají schovat do ní. A něco se naopak dá vést ze stropu. Konkrétně v případě této rekonstrukce se také sáhlo k řešení prostřednictvím takzvaných floorboxů, takže se elektřina nemusela přesekávat, což chtě nechtě zanechá stopy.
Zeleně a úsporně
Rekonstrukce v Atlas Copco se dá použít také jako dobrý příklad toho, jak vypadají trendy v kancelářském vybavení a designu. Velkou roli má hra s osvětlením třeba formou LED pásků, které dovedou vytvořit působivé efekty, a další "vychytávky". Jedna ze zasedaček má například světelný nápis se svým názvem, který svítí, když v místnosti nikdo není. Jakmile tam ale začne jednání, nápis zhasne, a dává tak najevo, že je obsazeno. Čím dál víc se v kancelářích objevují také zasedací místnosti organických tvarů a pracovní místa se opticky oddělují rostlinnou výzdobou a prvky.
 Když je řeč o zeleni, musí padnout i další důležité slovo: Úspornost. Hlavně zahraniční firmy už opravdu trvají na tom, že jejich existence a fungování nemají znamenat plýtvání zdroji, takže se ptají na energetiku kanceláří i na to, jak se bude zlepšovat. V areálech CTP se proto neustále oživují technologie tak, aby odpovídaly současným standardům – nasazují se inteligentní systémy osvětlení nebo vytápění, aby se spotřebovávala jen ta energie, která je opravdu potřebná. Ono to ostatně přitahuje i další klienty. Veronika Chlápková teď chystá prostory jednak pro velkou oční kliniku, jednak pro nejnáročnější nájemníky, a sice děti, protože v parku vznikne dětská skupina, aby se ještě víc zjednodušil život zaměstnanců, kteří už v něm pracují.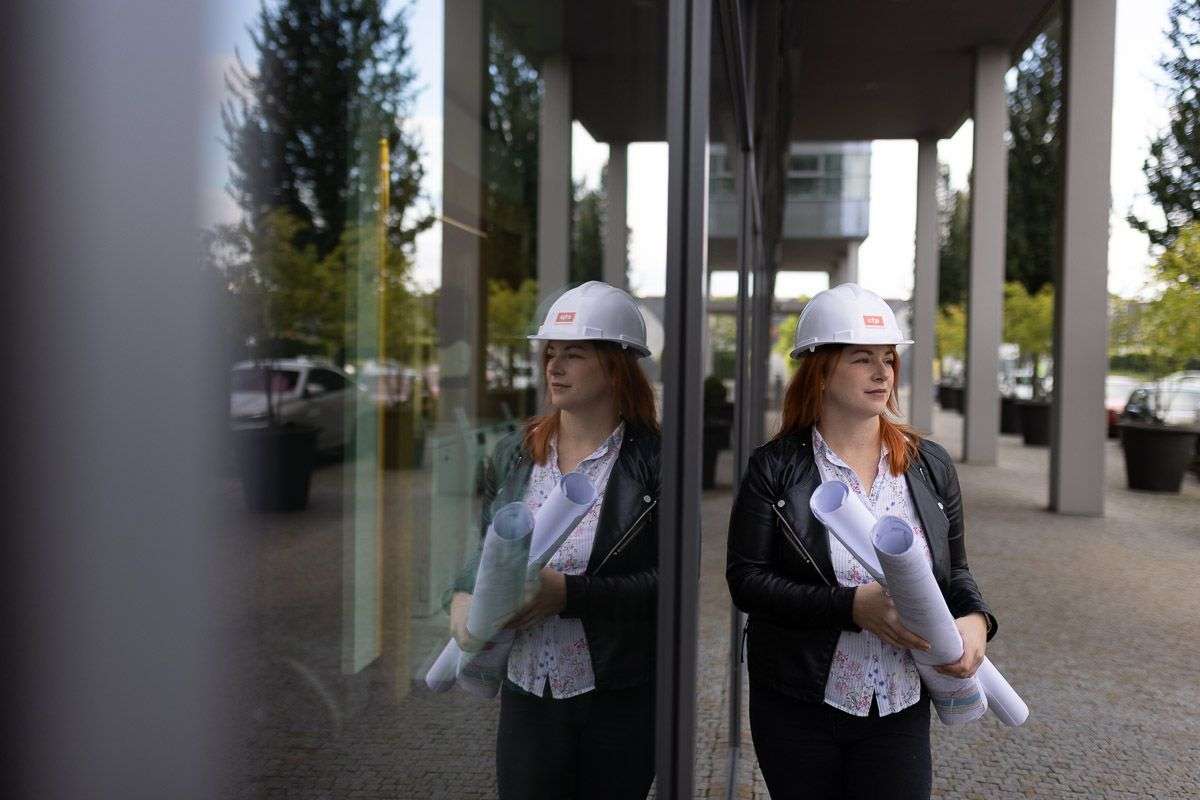 Veronika Chlápková
Sign up to our newsletter
Stay up to date with CTP's latest developments, industry insights, and exclusive offers by signing up for our newsletter. Join our community and be part of the future of industrial real estate.