Clubco láká. Na komunitu, polohu i technologie
Měsíce bez kolegů, bez vzájemného pracovního hecování i komunity okolo, která umí člověka tolik nabít. Zdá se ale, že právě tahle doba pomalu končí a teď je čas na nový start. Kde ho budete prožívat vy? Pokud přemýšlíte o coworku, pojďte nahlédnout do toho nejmodernějšího v Brně. Cowork Clubco ve Vlněně se totiž otevřel před několika dny a právě teď láká nové členy. Má na co.
Auto zaparkujete v podzemní garáži a rovnou z ní vyjdete přes suterénní prostor se zasedačkami a malým barem do přízemí, kde si můžete vybrat místo, jaké se vám bude líbit. Na vstup dovnitř nepotřebujete žádné klíče, stačí jen aplikace v mobilu, přes kterou se "propípnete" přes všechny turnikety. Na sezení se tady nabízí barevná čalouněná křesílka, ve kterých se málem schováte, nebo třeba vysoký stůl, který se tolik hodí pro vzájemné konzultování projektů. Jakmile se člověk usadí, dojde mu, že to nejsou zdaleka všechny možnosti. Vlevo za prosklenou zdí se rozprostírá venkovní posezení pod stromy, kam dosáhne elektřina i wi-fi. A třeba vpravo stojí kavárenský pult, kam se stačí pro oblíbenou kávu, již tady servírují v Brně tolik žádaní Rebelbean, jen trošku natáhnout.
Schody jako tobogán
Vítejte v coworku Clubco, nejnovějším brněnském projektu zaměřeném na sdílené kanceláře, který si vzal to nejlepší ze všech možných vlivů. Architektonický koncept, kterému dominuje výrazné žluté schodiště (návštěvníci už ho prý překřtili na tobogán) odkazující na brněnskou tradici funkcionalismu, vznikl v mezinárodní spolupráci holandského designéra Barta Vose a týmu architekta Václava Hlaváčka ze Studia acht. Na rozdíl od jiných tady nejde o kanceláře nebo cowork "na zkoušku", ale plnohodnotná pracovní místa pro jednotlivce a firmy, kterým zkrátka nevyhovuje klasické sezení v kanceláři. Clubco využívá polohy v centru města i usazení mezi zaběhnutými firmami v areálu Vlněny.
"Na všech zájemcích je vidět, že už se nemůžou dočkat, až se konečně dostanou z domácího prostředí a budou moct zase pracovat mezi lidmi."
Svým nájemníkům přitom poskytuje aktuálně nejvyšší možný standard – v suterénu jsou zasedačky s veškerou technikou potřebnou pro kvalitní videokonference. V přízemí pracovní místa pro ty, kteří chtějí mít volnost, i pro ty, kdo se raději uzavřou do svojí soukromé bubliny. Na dosah je taky knihovnička s publikacemi o osobním rozvoji, u které se počítá s tím, že bude pořád aktuální, soukromá kuchyňka nebo telefonní budky, když si potřebujete vyřídit dlouhý hovor.
"Freelanceři hlavně z oblasti IT, vývojáři, developeři, nejrůznější kreativci, architekti nebo designéři. Většinou je spojuje to, že už se nemůžou dočkat, až se konečně dostanou z domácího prostředí a budou moct zase pracovat mezi lidmi," takoví jsou podle Kláry Mezouar Šikulové, manažerky coworku, nejčastější zájemci o místo v Clubcu. Jeho prostorem nás provádí v době, kdy je otevřeno jen pár dní. Už teď je ale jasné, jaká budou nejoblíbenější místa.
Terasa jako odměna
Patřit mezi ně bude určitě horní terasa v prvním patře budovy. Ta už není přístupná všem, ale jen nájemníkům uzavřených kanceláří, které se v patře nacházejí. Představují myšlenkový mezistupeň mezi klasickými prostory a coworkem s tím, že by měly spojovat výhody obojího. Terasa, která k nim přiléhá, se pak dá využít různě – ke společným obědům, práci na vzduchu nebo i různým akcím a večírkům.
"Žijeme v době, kdy se zvažují změny v zažitých pracovních stereotypech a po prostorech, jaké nabízí Clubco, roste poptávka. Proto na ni reagujeme"
Na ty se v Clubcu vůbec myslí hodně. "Jádrem coworkingu má být networking, komunita, kterou vytváří jednotliví členové. Proto pro ně chceme organizovat různé eventy a workshopy a zvát na přednášky nejrůznější osobnosti, které mohou členy posunout v tom, co dělají, nebo v jiných oblastech života," líčí Šikulová a rukou přitom ukazuje do prostoru s pódiem, kde by se to všechno mělo odehrávat. Harmonogram prvních akcí už existuje, další se budou rodit i podle toho, o co se budou jednotliví členové nejvíc zajímat. Místa a možností je tady na to dost. Celý cowork zabírá dva tisíce metrů čtverečních a majitel areálu, developerská společnost CTP, do něj investovala 50 milionů korun.
"Žijeme v době, kdy se ve velké míře zvažují změny v zažitých pracovních stereotypech a po prostorech, jaké nabízí Clubco, roste poptávka. Proto na ni reagujeme," popisuje Jiří Kostečka, který má za CTP na starost rozvoj kancelářských aktivit v Brně.
Projekt dává podle něj smysl i z dalšího úhlu pohledu. "Brno bývá označováno za české Silicon Valley, působí zde řada start-upů a technologických firem, pro které je důležité spolehlivé technické zázemí, které také nabízíme," zdůrazňuje manažer. Odkazuje tak třeba na to, že Clubco má vlastní dieselový generátor, díky kterému nemůže dojít k výpadku serverů. Veškerá administrativa spojená s členstvím v coworku se dá snadno vyřídit přes už zmíněnou mobilní aplikaci. Nejdřív je třeba objednat si členství, které může být jen několikahodinové v případě, že třeba jen projíždíte přes město a potřebujete se někam uklidit s notebookem. Všechny možnosti najdete na webu www.clubco.cz, kde jsou uvedeny i informace k pronájmu zasedaček nebo občerstvení, bez kterých se žádné školení nebo konference neobejdou.
À propos, konference a setkávání… Clubco podpoří v jeho aktivitách i Jihomoravské inovační centrum (JIC), jež dodává energii podnikatelům i firmám z celé jižní Moravy. "Dává obrovský smysl, aby zde – v místě sídel některých korporací a velkých technologických firem – vznikl prostor pro malé a ambiciózní start-upy, technologické firmy i podnikavé jedince," nastínil novému coworku budoucnost David Uhlíř, který má v JIC na starost regionální inovační strategii. Pokud chcete být součástí té budoucnosti i vy, není nic jednoduššího. V prvních týdnech fungování tady v Clubcu nabízí i den na zkoušku, abyste si mohli všechno na vlastní kůži osahat.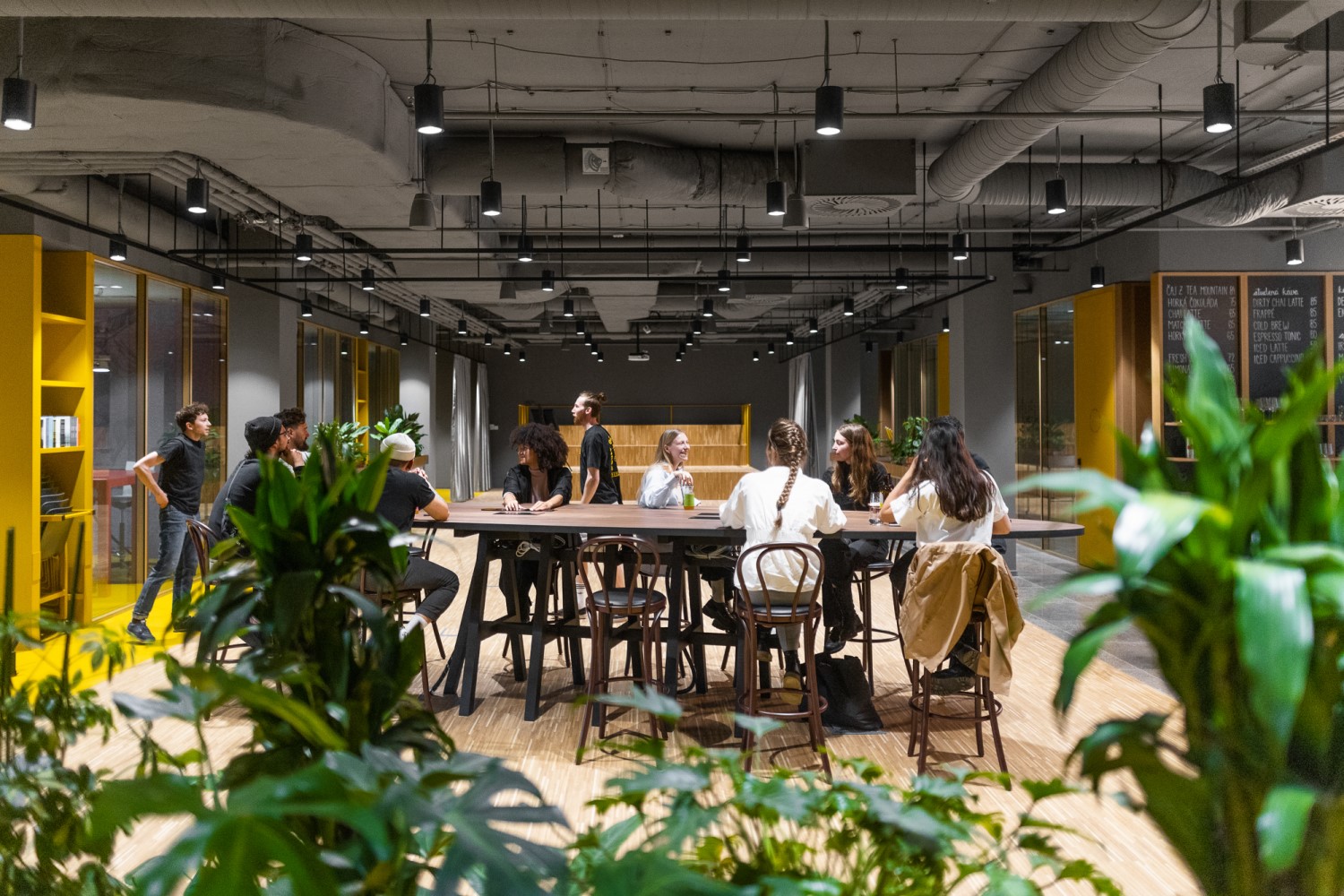 Sign up to our newsletter
Stay up to date with CTP's latest developments, industry insights, and exclusive offers by signing up for our newsletter. Join our community and be part of the future of industrial real estate.