Ať se lidé naučí číst složení u kosmetiky jako u jídla, přejí si tvůrci úspěšné značky Lobey
Jak často se v obchodech díváte na složení potravin? A jak často to děláte u kosmetiky? Zatímco u jídla na nás tlačí výživoví specialisté, zdravotníci nebo i zákony, u toho druhého to zatím přijde důležité málokomu. "Lidé by se přitom hodně divili, kdyby složení četli a zjistili, co si dávají třeba na pleť," říká David Krobot, jeden ze zakladatelů značky LOBEY, která na českém trhu prorazila s přírodní, dermatologicky testovanou kosmetikou. Nedávno se firma přistěhovala do byznys parku Spielberk, odkud bude expandovat na zahraniční trh.
Značku založila trojice podnikavých mužů – Milan Krejčí, Tomáš Plíhal a David Krobot. Všichni měli zkušenosti z práce pro mezinárodní firmy a ze zahraničí, ale spojovala je touha po vlastním byznysu.
"Měli jsme výhodu, že Tomáš v kosmetickém průmyslu deset let pracoval a věděl co a jak. Nejvíc nám pomohlo i to, že jsme od začátku byli tři. Start podnikání je náročný, a když toho má někdo hodně nebo na něj věci dolehnou, ostatní ho podpoří," poukazuje na rozhodující moment David Krobot a cituje kolegova slova, že "lepší je mít podíl z něčeho malého než nic z něčeho velkého".
I přírodní kosmetika může být funkční
"Definujeme problém a pak hledáme, jak ho řešit. Pokud je to třeba akné, zjistíme po konzultaci s dermatology a výzkumy, jak vzniká, a pak hledáme řešení ve formě aktivních látek, u kterých je klinicky ověřeno, že fungují. V jednom produktu je navíc látek několik. Co v něm naopak nenajdete, to jsou zbytečná plnidla nebo parfemace," vysvětluje Krobot.
Aktivní látky jsou účinné a tím pádem drahé. Produkty proto nekoupíte v klasické drogerii mezi ostatními za pár desítek korun. "Na druhou stranu proti tomu, jak drahá umí být kosmetika slavných značek, my tu naši prodáváme daleko levněji. Je to díky tomu, že důsledně automatizujeme, máme zkušenosti z byznysu a také proto, že vynecháváme zbytečné prostředníky," vysvětluje CEO, proč LOBEY prodává přes e-shop, který měsíčně napočítá kolem osmi tisíc zákazníků. Zakladatelé strávili spoustu času získáváním zpětné vazby a značka tak žije na recenzích a hojném doporučování mezi zákazníky.
"Nejvíc nám pomohlo to, že jsme od začátku byli tři. Start podnikání je náročný, a když toho má někdo hodně nebo na něj věci dolehnou, ostatní ho podpoří."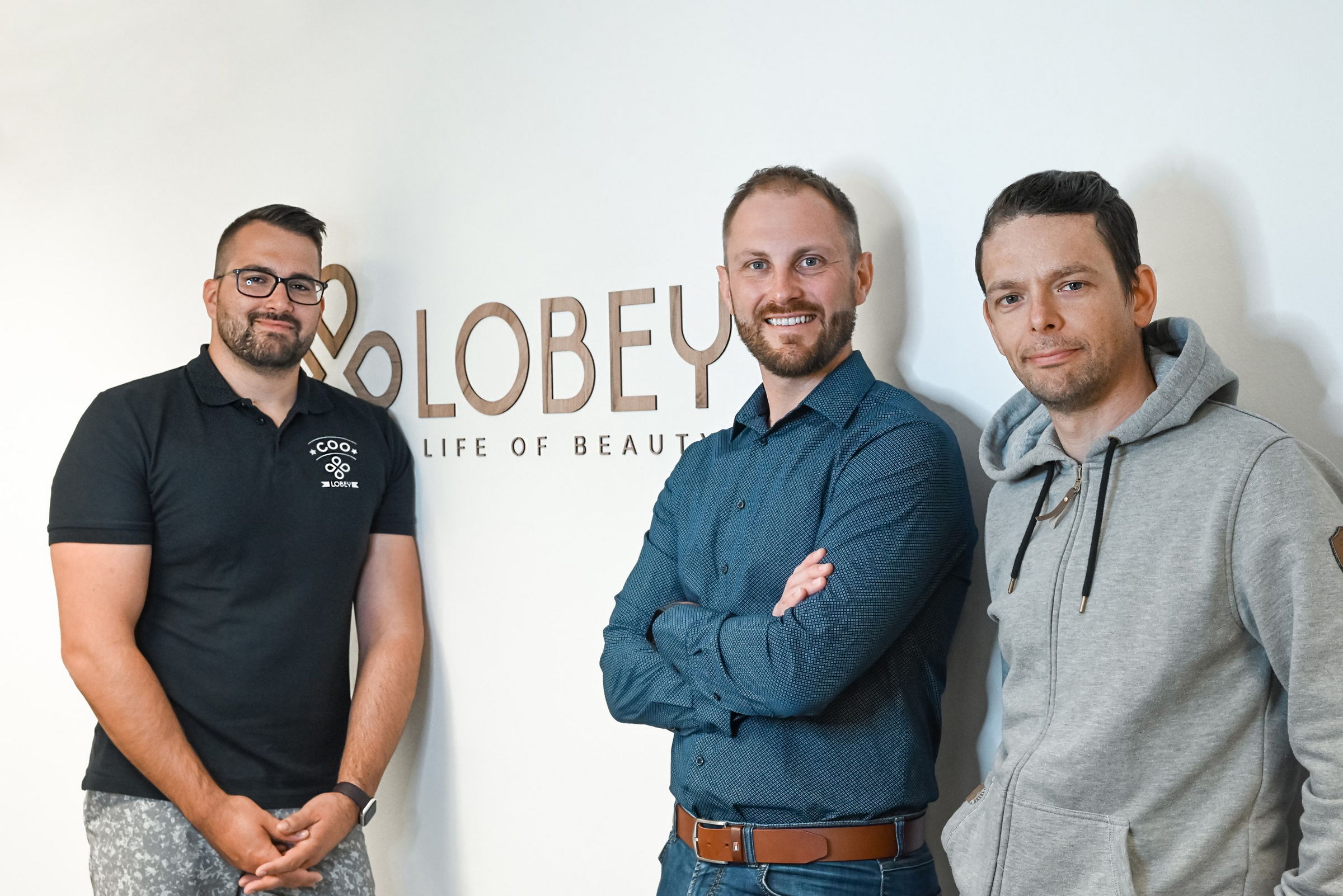 Do zemí, které přejí udržitelnosti
LOBEY se v Česku dostalo na 70milionový roční obrat, ale ještě před pár desítkami měsíců to tak nebylo. Všichni tři zakladatelé měli svá náročná zaměstnání, rodinný život, hypotéky a po večerech a nocích značku budovali ve skladu s ovocem o devíti metrech čtverečních. Dnes se už připravují na expanzi za hranice na Slovensko, do Německa a Rakouska v nové kanceláři ve Spielberku. Stěhování do už čtvrtého fyzického sídla má firmě zajistit prostor na personální, produktovou i tržní expanzi.
"Víme, že se v Německu a Rakousku budeme chovat jinak. Jsou to země náročnější na složení produktů, ale toho se nebojíme, protože máme certifikace i na velmi citlivou pokožku. Zajímají nás i proto, že v obou zemích je daleko větší tlak na udržitelnost, která je jednou z našich firemních zásad. Já sám jsem environmentalista, chci používat jenom věci, které jsou pro tělo dobré a které nebudou škodit, když je smýváme do podzemních vod. Současně chci, aby naši zákazníci věděli, co kosmetika obsahuje," zdůrazňuje Krobot.
Ví přitom, že takhle nepřemýšlí zdaleka každý výrobce. Zatímco jeho firma má na webu popsané a vysvětlené složení produktů, jinde je standardem neprůhledné latinské názvosloví. Na revoluci jako v potravinářském průmyslu to v tom kosmetickém zatím nevypadá, ale díky značkám, jako je LOBEY, se nemusí jednat o vzdálenou hudbu budoucnosti.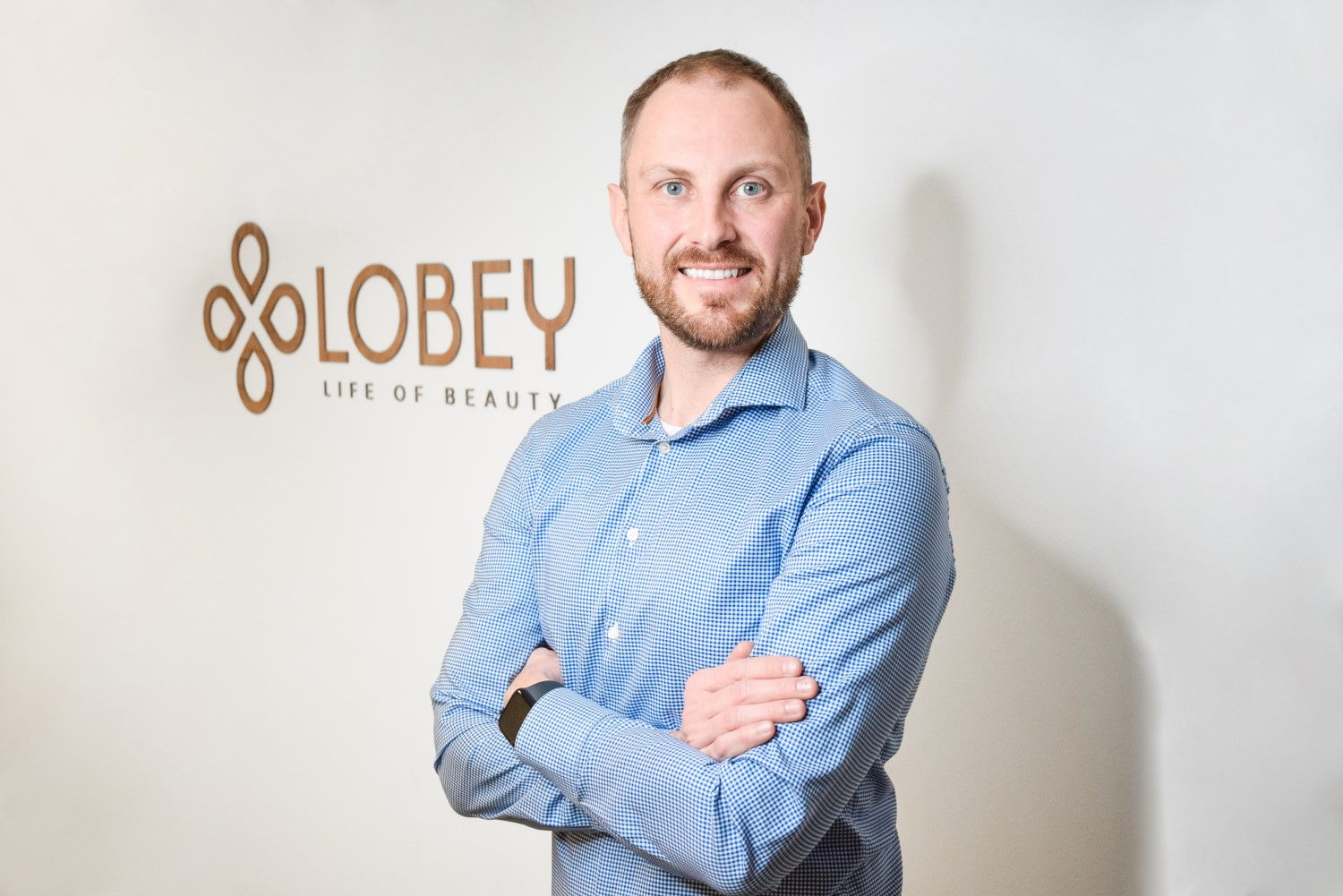 David Krobot
Sign up to our newsletter
Stay up to date with CTP's latest developments, industry insights, and exclusive offers by signing up for our newsletter. Join our community and be part of the future of industrial real estate.