CTP Insights:
Rising Regulatory Requirements Combined with Land Scarcity Leads to Higher Supply Constraints
Introduction: Rising regulatory requirements limit the growth potential for new industrial & logistics (I&L) stock in Europe. Proprietary data from CTP construction projects reveals that the time period required to obtain a permit (including zoning) has increased, and based on current market trends is only expected to rise further in the years ahead. Regulatory barriers are highest in CTP's most mature I&L markets, which also record the lowest market vacancy. This combination should underpin rental levels and support rental growth.
More complex and longer permitting processes: Increased complexity and lengthier processes are driven by multiple factors, including lack of staff at public authorities, stricter (environmental) requirements and increased consultation with neighbouring communities. This leads to the lengthening of project timelines across most CTP countries, particularly in Western European markets, where permitting timelines are up to 10 months longer compared to the situation pre-pandemic (2019).
Differences between markets: Countries with the tightest supply, e.g., Germany and the Czech Republic, record the longest period of time required to obtain a development permit.  Acquiring a permit in Western European markets takes on average one and a half to almost three years. CTP's Growth Markets have lower regulatory barriers, but as the sector matures, these barriers are also rising.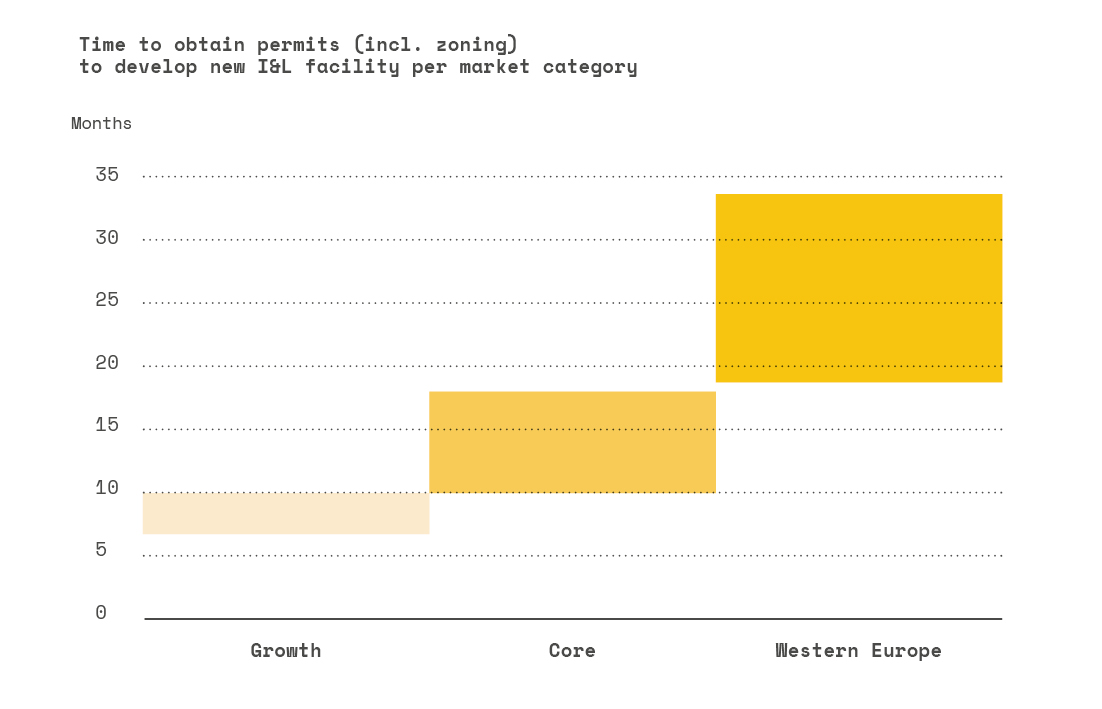 Growth markets (Poland, Serbia, Bulgaria), Core (Czech Rep., Slovakia, Hungary, Romania),
Western Europe (Austria, Germany, Netherlands)
Source: CTP Research and Strategy, CTP's local construction leads
Re-zoning leads to even longer project timelines. Within CEE clear differences are observed: Poland and Slovakia are relatively fast, while the Czech Republic requires the most time.
Stricter regulation entails higher barriers and costs: Regulatory requirements are expected to lead to higher barriers for new supply in years to come. Particularly combined with land availability, which is (extremely) scarce in mature markets like Germany, the Netherlands, Austria and the Czech Republic. These rising barriers lower the potential risks of oversupply and keep market vacancy near record-low levels. However, for CTP's clients, rising barriers make it challenging to expand their footprint quickly. For developers, higher costs are involved, as lead times are longer. Ultimately, efficient and predictable permitting processes in which all parties are involved support wider socio-economic prosperity for local economies.
Adapting to the stricter regulatory environment: Long-term visibility on land bank and client requirements are key. As details do matter, local expertise is essential to have the most efficient permitting process in place. To adapt, the I&L sector should be focused on integrated area development, (logistics) ecosystems and wider community commitment. Integrated area developments contain a mix of start-up, scale-up and grown-up companies within a mixed, sustainable and functionally adaptive environment for work and life, which ultimately drives long-term growth in a constrained environment.
Sign up to our newsletter
Stay up to date with CTP's latest developments, industry insights, and exclusive offers by signing up for our newsletter. Join our community and be part of the future of industrial real estate.