Les se buduje podobně jako parky.
I on chce diverzitu
Budovat se dá kde co. Domy. Kancelářské parky. Logistické areály. Jako minimálně stejně důležité se ale v dnešní době ukazuje obnova lesů po kůrovcové kalamitě. A tak si CTP dalo závazek: Co metr čtvereční areálů, to metr čtvereční lesa. Ten nejnovější už se klube kousek od Zlína a další začnou postupně vyrůstat. Je to příležitost v mnoha ohledech.
Na jedné straně seřazení skauti, myslivci a zaměstnanci CTP. Mezi nimi děti, a dokonce i pes. Na druhé straně vykolíkované řádky a nad nimi Tomáš Michálek, který podrobně vysvětluje, co se kam bude vysazovat. Tak nějak to vypadalo v listopadu loňského roku na pasece obklopené stromy nedaleko Zlína, konkrétně na pomezí obcí Karlovice a Chlum.
Ten den tam lidé do řádků zasadili přes tři tisíce listnáčů a jehličnanů.
Ten den začala obnova zatím největšího lesa, který CTP buduje jako součást svého závazku vyrovnávat svoje developerské aktivity těmi zelenými.
"V minulosti už jsme vysadili 100 tisíc stromů u Mladé Boleslavi, nedávno jsme dokončili veřejný park v Líšni. V Čechách máme mimo to dalších sto hektarů lesa a k tomu právě tady těch 470 u Zlína, které postupně osazujeme."
Se získáním toho zlínského to ale nebylo jen tak – lesy o tak velké výměře se standardně v nabídce realitních serverů moc často neobjevují. U téhle akvizice paradoxně "pomohlo", že někdejší les z velké části padl za oběť kůrovci. "Když jsme plochu získali, bylo na ní asi 50 hektarů holin, které teď postupně osazujeme. Protože je opravdu velká, počítáme s tím, že na ní budeme pracovat dvakrát ročně, na jaře i na podzim," avizuje Michálek, že se za pár týdnů na místo opět vrátí.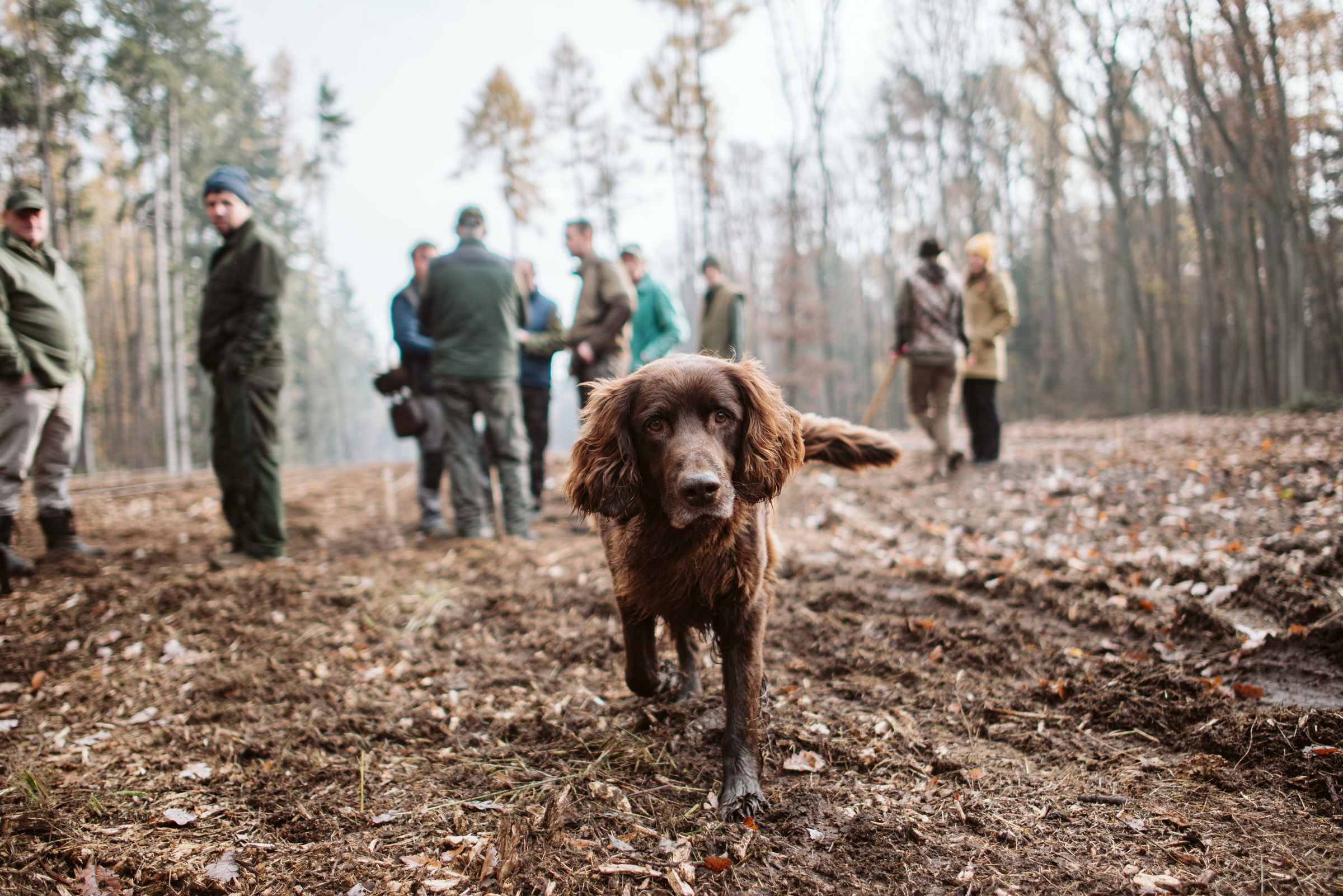 Mix, který odolá nepřátelům i měnícímu se klimatu
Mimochodem to on je ten, kdo určuje mix sazenic, které se na místě objeví. Protože v posledních letech kvůli kůrovci zmizela z českých lesů skoro polovina smrkových porostů, sází na diverzitu. "Původně tam rostl hlavně smrk, ale vzhledem k tomu, o jaký vegetační stupeň se jedná, je jasné, že tam není původní. Proto jsme sáhli po kombinaci listnáčů, jedle, modřínu a douglasky a občas přidáme habr, javor, třešeň, hrušeň nebo jabloň. Taková kombinace vyhovuje lokalitě a zároveň by měla zvládnout i změny klimatu do budoucna," popisuje Michálek. Při plánování myslel také na to, aby budoucí stromy odolávaly škůdcům a žilo se tady dobře zvěři, protože plochu si jako honitbu pronajímají myslivci.
Zalesňovat se tady bude ještě dva tři roky, k tomu patří pravidelné vyžínání, aby stromky nepohltila divoce rostoucí lesní tráva, a oplocení jako ochrana proti okusování zvěří. "Oplocená plocha ale nesmí být příliš velká, aby tudy mohla zvěř a procházet turisté. Proto jsme vytvořili několik čtyřmetrových koridorů, aby les mohl žít," zdůrazňuje Michálek, který myslel na udržitelnost a krajinotvorné prvky v nejrůznější podobách. Už teď přemýšlí nad obnovou zdejších tůní a tím, že se do lesa nainstaluje pár laviček nebo odpočívadel pro místní a turisty.
Podobné postupy bude uplatňovat i v dalších lokalitách, lesy CTP se totiž budou určitě rozšiřovat. Aby firma splnila svůj závazek o "vyrovnání s krajinou", hledá teď dalších 200 až 300 hektarů lesa.
Včely i hmyz
"Na obnově rovnováhy v životním prostředí nám opravdu záleží. Proto stavíme tak, jak stavíme, proto mají například všechny naše budovy environmentální certifikace, proto i do parků ve městech přidáváme další zelené prvky," vypočítává Michálek. Do jeho práce tak spadá i plánování vodních ploch, rozmisťování včelích úlů nebo hmyzích domků. Zatímco od toho prvního – včelínů – se v městských areálech pomalu upouští, protože včely tady přece jen nemají tolik potravy, kolik by potřebovaly, nasazování toho druhého naopak roste. Hmyz si totiž vystačí i s menší plochou, díky drobným dřevěným domkům se rychle rozmnožuje a stará se v okolí o zvýšení tolik důležité diverzity.
Sign up to our newsletter
Stay up to date with CTP's latest developments, industry insights, and exclusive offers by signing up for our newsletter. Join our community and be part of the future of industrial real estate.