Domqy vtahují do Česka západní trendy bydlení
Někomu evokují brutalistní architekturu, jinému zase budovy typické pro západní kdysi protestantské země. Všechno z toho je pravda. Seznamte se s Domqy, rezidenčním projektem pro mladé profesionály, zahraniční pracovníky a mladé rodiny, který vyrostl v byznys parku Ponávka už ve dvou typových provedeních. Majitel CTP Remon Vos ho vymyslel, když byl kdysi na návštěvě dcery, která tehdy studovala ve Španělsku. V Česku ale dostala jeho myšlenka úplně nový směr, a právě teď má každý příležitost si takové bydlení vyzkoušet.
Před těmi lety totiž Remona Vose, CEO CTP, napadlo, že španělské ubytování jeho dcery má trochu vyšší standard, než na jaký byl zvyklý z Česka i odjinud. A napadlo ho, že hlavně cizinci by ho ocenili i v zemi v srdci Evropy. A tak vznikl v byznys parku Ponávka Domeq číslo 1. Stojí už pět let a díky velkému zájmu mu teď kousek vedle vyrostli hned dva noví (typově trochu odlišní) sourozenci. Proti prvnímu objektu, který je koncipovaný jako colivingový, mají nové dvě budovy větší pokoje, jsou určeny na delší bydlení a širšímu spektru nájemníků.
Jejich majitel, společnost CTP, tak reaguje na současnou situaci na trhu a zvýšenou poptávku po bydlení nejen v Brně. Ve dvou nových objektech je bezmála 160 bytů, z toho necelých sto 1+kk pro jednotlivce nebo páry, bezbariérové apartmány, menší či rodinné vícepodlažní byty a velkometrážní 2+kk a 3+kk například pro mladé rodiny.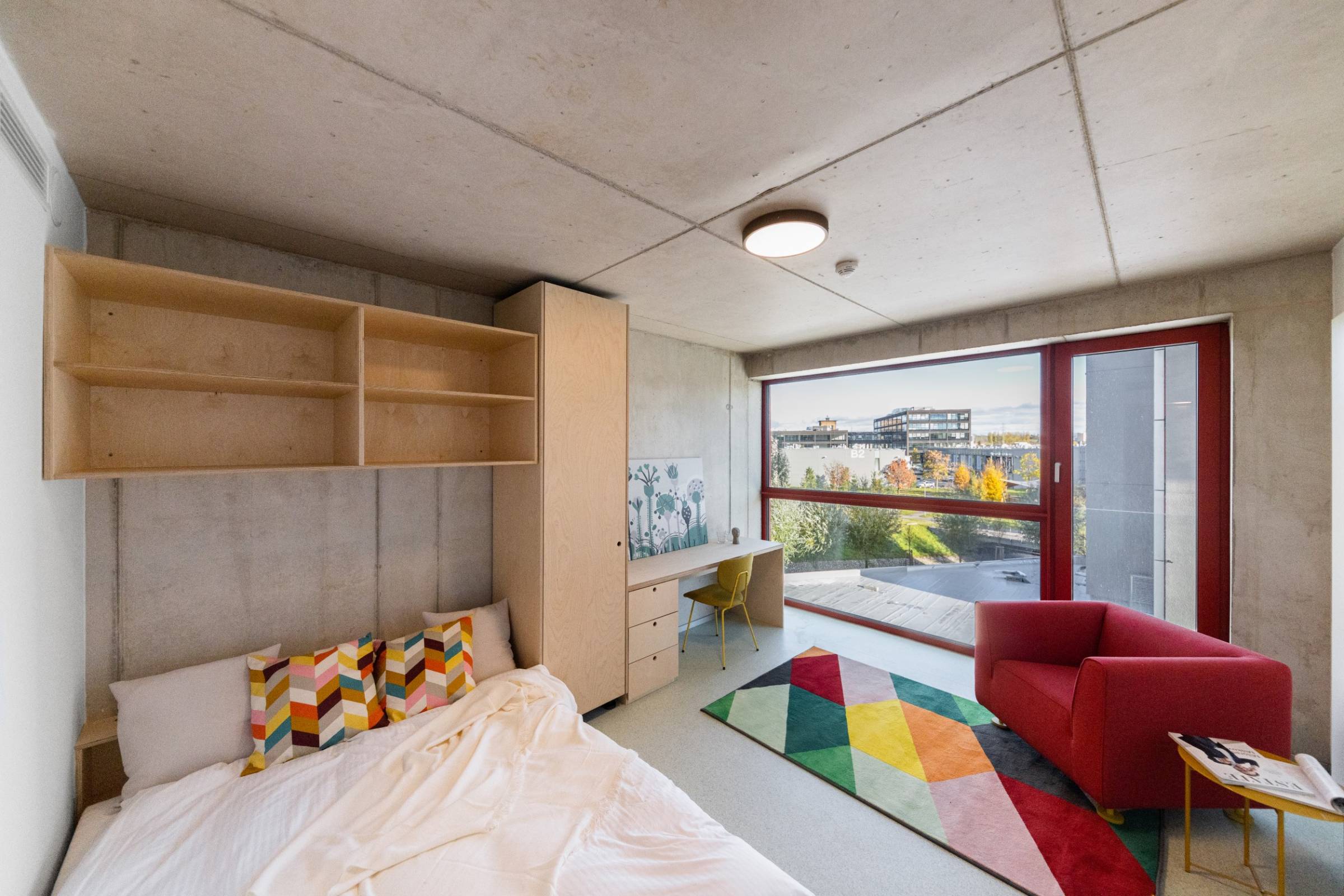 Moderní a udržitelné
"Tento koncept moderního bydlení kopíruje trendy západní Evropy. Odpovídá na potřeby dnešní generace dynamických mladých lidí, kteří do Brna přicházejí za studiem nebo prací a hledají reprezentativní, praktické, flexibilní a cenově dostupné místo k bydlení, které ale také pohodlně ubytuje například začínající rodiny," vysvětluje Jakub Kodr, obchodní ředitel CTP pro Českou republiku. Vyzdvihuje přitom i provedení budov a jejich orientaci na udržitelnost. Domqy II a III jsou jednou z prvních budov svého druhu aspirujících na prestižní certifikaci BREEAM Outstanding a Well. Z hlediska použitých technologií jsou navržené tak, aby byly maximálně šetrné k přírodě.
Bydlení v nových Domcích bude zajímavé hlavně pro ty, kdo pracují nedaleko – v centru Brna, přímo v parku Ponávka, ve vedlejší Vlněně a Spielberku nebo na Černovických terasách. Podle záměru jejich tvůrců totiž člověku všechno tohle dohromady vytvoří pohodlný brněnský život: bydlení v Domcích je v centru města a pro toho, kdo nechce využívat městskou hromadnou dopravu, je k dispozici kryté parkování v podzemních garážích. Všude okolo je spousta firem, a tedy i zaměstnavatelů, a obě nové budovy dokážou nabídnout všechno potřebné i tomu, kdo se doma nechce o nic starat: Byty jsou vybavené, Domqy nabízejí sdílené služby, jako je prádelna nebo posilovna. Kdo chce, může si navíc zaplatit i za úklid a v okolí využívat basketbalové hřiště a chill out zónu.
Výrazným prvkem obou staveb je jejich nadčasový design – i když nesvítí barvami do dálky, je to všechno, jen ne šedivé bydlení. Jejich architektura má řadu překvapivých prvků, třeba velkoformátová okna v pokojích, takže byty nabízí dostatek světla a krásné výhledy do okolí. Byty z nabídky rychle mizí. Jejich aktuální výběr najde každý na webu domeq.cz.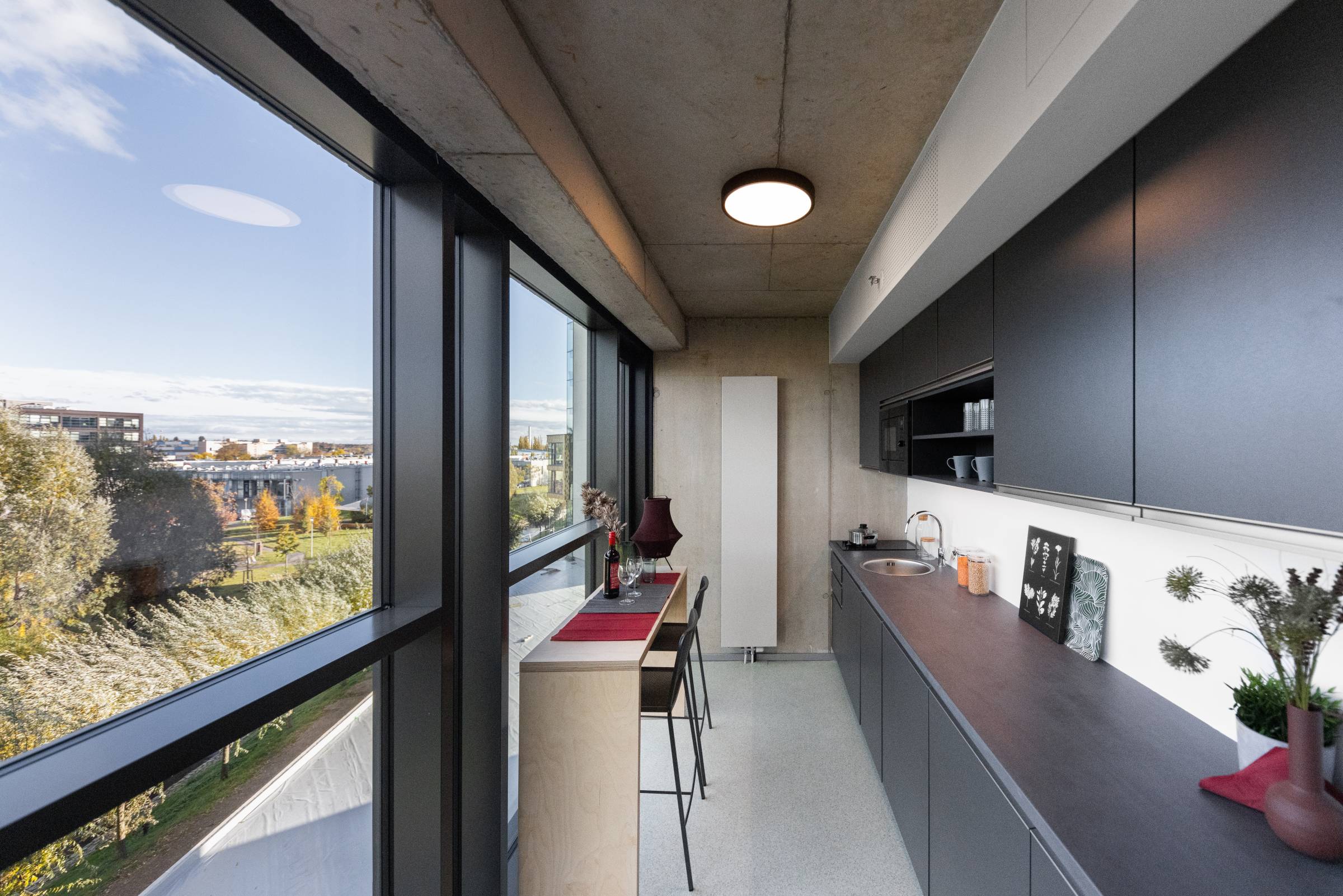 Sign up to our newsletter
Stay up to date with CTP's latest developments, industry insights, and exclusive offers by signing up for our newsletter. Join our community and be part of the future of industrial real estate.