Developer CTP slavnostně zahájil výstavbu vysoce moderní kancelářské budovy v hodnotě 1,5 mld korun, završuje tak revitalizaci areálu Ponávka
Developer CTP slavnostně zahájil výstavbu vysoce moderní kancelářské budovy za účasti primátorky města Brna Markéty Vaňkové, 1. náměstka primátorky Petra Hladíka, brněnského náměstka Roberta Kerndla a radního města pro dopravu Petra Kratochvíla. Budova za 1,5 miliardy korun uzavře I. etapu rozvoje brněnského areálu Ponávka a svým nájemcům nabídne nejmodernější technologická a zároveň ekologicky udržitelná řešení. V areálu vzniká současně moderní městský park za 30 milionů korun, který je spoluprací developera a města Brna, a také třetí část cyklostezky propojující areály Ponávka a Vlněna.
Budova A4 je posledním článkem přeměny bývalé lokality z 19. století v prémiovou multifunkční destinaci 21. století. Její dokončení je plánováno na přelom roku 2023/2024 a završí revitalizaci areálu Ponávka, kde vznikl unikátní komplex rezidenčních, komerčních a industriálních budov. Projekt nabídne na svých 13 patrech 25 tisíc m2 ploch kancelářských prostor, které ve spodních patrech doplní drobné obchody, showroomy a restaurace.
Projekt je navržen v souladu s nejvyššími nároky na udržitelnost. Nabídne chytrá řešení v práci s dešťovými i šedými vodami a technologie světového standardu. Nebudou chybět systémy světel, jejichž autonomní chování reagující na sluneční svit a pohyb v objektu významně podpoří úsporu energie, dále vlastní zdroj fotovoltaické elektrárny nebo unikátní systém větrání a výměny vzduchu, garantující nejvyšší možný komfort. Budova doplní dynamické komunitní prostředí Ponávky také esteticky. Za jejím designem, stejně jako za urbanistickým konceptem areálu Ponávky, stojí Studio acht.
"A4 je poslední z budov, která vznikne na původním brownfieldu a zakončí revitalizaci areálu Ponávka. Poté nás čeká už jen vybrušování diamantu v podobě budovy C5, která bude stopou historie v moderní architektuře nové budovy. Ta bude velmi impozantní svou podobou i funkcemi. Našim klientům budeme moci nabídnout špičkové technologie, které zefektivní jejich práci a zpříjemní pobyt v budově, zatímco zůstanou dodrženy vysoké standardy udržitelnosti."
"Jde již o několikátý projekt, na kterém s CTP spolupracujeme, a já nepřestávám být pyšný na naše výsledky. Budova A4 je směsicí nejmodernějších architektonických prvků, které dokonale podtrhnou unikátní prostředí dané lokality. Kromě funkčního designu kombinujícího hliník a sklo se budova může pochlubit také soustavou chytrých a udržitelných prvků, které ji staví vysoko mezi nejmodernější kancelářské budovy u nás."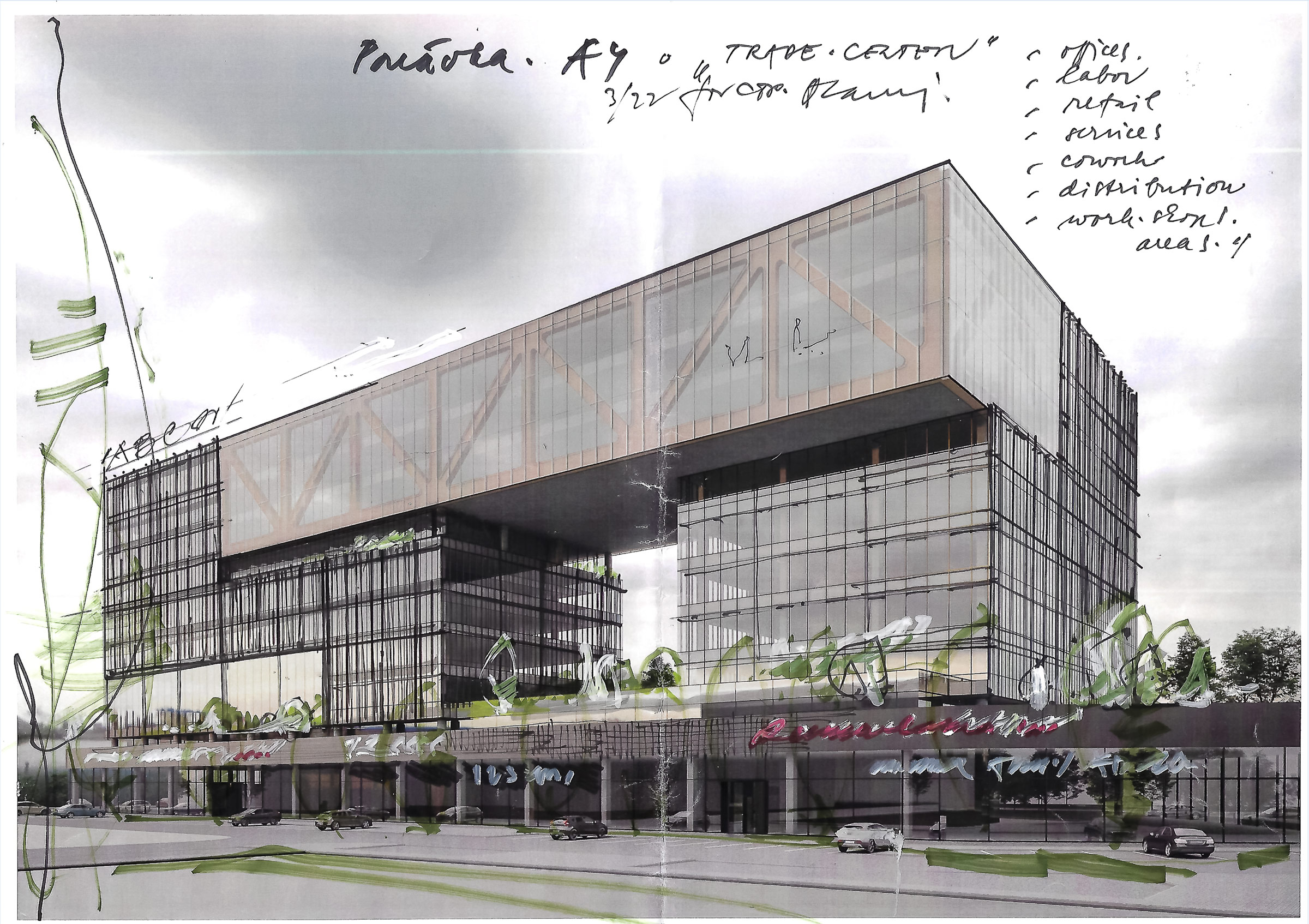 V rámci dlouhodobé obnovy území kolem toku říčky Ponávky pracuje CTP i na dalších projektech. V současné době spolupracuje s městem Brno na budování moderního parku, který vznikne rekultivací městských pozemků a pozemků CTP. Na projektu za 30 milionů korun se developer podílí 5 miliony korun a po jeho dokončení na 30 let zdarma propůjčí své pozemky městu. Dokončení parku je plánováno do konce tohoto roku. Do nového parku povede také cyklostezka propojující areály Ponávka a Vlněna, jejíž výstavbu třetí etapy nyní CTP zahajuje.
"CTP se dlouhodobě zapojuje do rozvoje města a přináší sem pestrou škálu projektů. Vedle moderních budov se stará i o jejich okolí a pomáhá nám vytvářet atraktivní prostranství v Brně. Momentálně s CTP spolupracujeme na rekultivaci okolí toku Staré Ponávky, kde vzniká nový městský park v anglickém stylu. V rámci projektu bude obnoven i meandr říčky, která tak propojí industriální historii území s jejím moderním využitím. Věřím, že nejde o poslední společný projekt."
"S CTP se nám už v minulosti podařilo vybudovat důležité projekty, které Brnu pomáhají být moderním městem. Park u ulice Škrobárenská doplní park Mariacela, který jsme vybudovali v roce 2019 a se kterým se Brno účastnilo finále soutěže Adapterra Awards. Důležitost přírody a zeleně pro město Brno podtrhuje i skutečnost, že díky programu Nové parky pro Brno vybudujeme v následujících zhruba 50 nových parků a zelených ploch. Jsem rád, že v rámci parku Škrobárenská se myslí i na cyklodopravu a dojde k propojení dvou významných areálů," řekl Petr Hladík, 1. náměstek primátorky města Brna.
O CTP Ponávka Business Park
CTP Ponávka Business Park je velmi unikátní lokalitou, která v sobě pojí celou řadu nejrůznějších projektů developera a dostává tak svůj jedinečný ráz. Moderní areál bývalého brownfieldu kolem řeky Ponávky v sobě kloubí nejmodernější developerské počiny z oblasti komerčních, rezidenčních a industriálních ploch. Kromě flexibilních kancelářských budov se zde nachází CTBoxy s ideálními prostory pro malé firmy, které hledají sklad, prodejnu a kanceláře pod jednou střechou, nebo Studia zrenovované historie, vhodné pro showroomy, startupy a kreativní týmy. Diverzitu parku doplňuje Domeq, nejinovativnější koncept moderního bydlení zejména pro mladé.
O CTP 
CTP je největším evropským vlastníkem, developerem a správcem logistických a průmyslových nemovitostí s více než 9,5 miliony m2 pronajímatelných prostor v celkem deseti zemích. Společnost očekává, že do konce roku 2022 rozšíří své portfolio na 10 milionů m2 GLA, tedy o rok dříve, než jak byl stanoven cíl při jejím vstupu na burzu Euronext Amsterdam na konci března 2021. CTP je jediným developer v regionu, který má celé své portfolio certifikované dle standardů udržitelnosti BREEAM. V průběhu roku 2021 se společnosti podařilo dosáhnout závazku být udržitelným podnikem a získat certifikát uhlíkově negativní společnost.
Pro více informací: ctp.eu
Kontakt pro média: Pavlína Křivancová, pavlina.krivancova@amic.cz, +420 776 100 009
Sign up to our newsletter
Stay up to date with CTP's latest developments, industry insights, and exclusive offers by signing up for our newsletter. Join our community and be part of the future of industrial real estate.