Černovické terasy jsou útočištěm raněných zvířat. Ročně jimi projdou stovky z nich
Jaké to je zasvětit celý život pomoci zvířatům? Zdeněk Machař jich jenom za minulý rok zachránil více než čtrnáct set. Na ploše třiceti hektarů se v Brně stará o všechna ta, která se dostanou do nesnází, od veverek až po lišky. Po jak dlouhé době se vracejí do přírody? Jaké druhy na chovnou stanici nemůžou? A kolik telefonátů denně Machař ohledně živočichů dostává?
 Necháváme za sebou centrum Brna a přijíždíme na Černovické terasy, do průmyslového areálu, který kolem silnice lemují výrobní haly. O to víc překvapí zapadlá odbočka, které by si člověk ani nevšiml. Z asfaltu sjíždíme mezi obilí a za chvíli míjíme nenápadnou bránu, na které stojí nápis "Pomáháme zvířátkům". Za ní se ozývá štěkot psů a štěbetání ptáků. Psí radost postupně nabírá na intenzitě, to proto, že se k bráně blíží Zdeněk Machař, majitel záchranné stanice.
"Jsem tu už od devadesátek," začíná vyprávět. Jeho předci byli pytláci, kteří ale velmi dobře rozuměli zvířatům a přírodě, proto z nich tehdejší radní udělali lesníky. Vztah k přírodě v rodině zůstal, profesně se zvířatům věnovali i Machařovi rodiče. To, že si pak on sám založil v devadesátých letech záchrannou stanici, kde má momentálně 400 tvorů, dává o to větší smysl. Jak se k němu dostávají?
Až 140 telefonátů za den
"To je různé. Lidé mi je sem vozí rovnou nebo si pro ně jezdím přímo tam, kde je najdou, případně je vyzvedávám na sběrných místech," popisuje Machař a bere do ruky malou veverku, která se k němu dostala nedávno. V Brně jsou sběrná místa na Křenové a na Štěpánské, lidé tam můžou odevzdat zraněné či nalezené jedince kdykoliv v průběhu dne, ideálně po předchozí telefonické domluvě.
A že těch telefonátů v letních měsících je. "Denně mi volá až 140 lidí. Nejčastěji nacházejí poštolky a celkově ptactvo, u kterého je nejobvyklejším zraněním pochroumání po srážce," vysvětluje Machař. Za zvuku krákorání havranů se ptáme, jak jde takové tvory zachránit. "Ponárazový stav je celkem krátký a většina zvířat se z něho dostane. Ptáci si u mě pobudou pět hodin až dva dny, v té době jim dopřávám klid na lůžku, a pak je z voliéry vypouštím," říká a rukou ukazuje směrem, kde jsou prostorné klece plné ptáků.
"Minulý rok se do stanice dostalo 1407 a péče o ně něco stojí. Denně mě to vyjde na 5 200 korun. Část hradí krajský úřad, část magistrát a potom sponzoři, mezi nimiž je i CTP."
Po vypuštění si ptáci můžou sami zvolit, jestli zůstanou volně žít v oblasti chráněné stanice, nebo vezmou křídla na ramena a odletí opět do volné přírody. Živočichové si ve stanici moc dlouho nepobydou, důvod je jednoduchý. Čím déle tam jsou, tím hůř se jim do volné přírody vrací.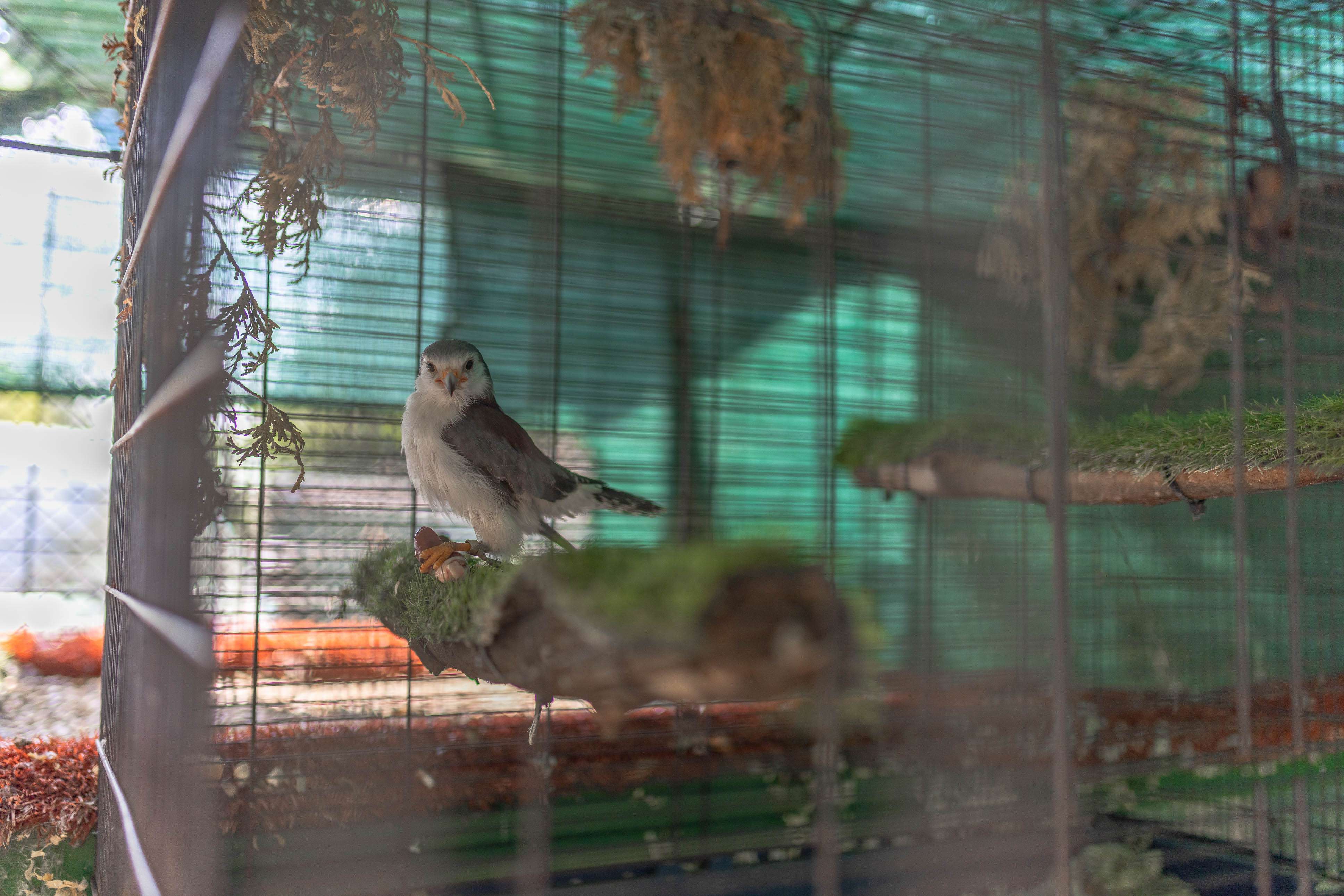 Nejlepší místo pro poloochočená zvířata? Ústřední hřbitov
Ptáky jde volně vypustit do vzduchu, jak je to ale s ostatními tvory? "Možná vás to překvapí a možná to bude znít trochu morbidně, ale nejlepší místo, kde vypustit uzdravené živočichy, je Ústřední hřbitov," říká Machař a pobaveně přitom sleduje naše udivené obličeje. Aniž bychom dodávali něco dalšího, vysvětluje dál: "Proudí tam senioři s pamlsky, je tam klid, nejsou tam myslivci ani kočky a je to celoročně zelená plocha."
S kým se tam ani v žádné záchranné stanici nesetkáte, to jsou medvědi, bobři, vlci a jeleni. To je čtyřka, která je příliš nebezpečná. "Jelen by vás mohl rozpárat, na medvědy tu nemám údernou sílu, bobr by rozryl všechnu zeleň a vlci jsou obecně velmi nebezpeční," vysvětluje. I takovým zvířatům se pomáhá, jejich cesta ale vede do zoo.
Kolik stojí záchrana jednoho zvířete?
Živočichů, kteří se ročně k Machařovi na záchrannou stanici dostanou, není vůbec málo. Minulý rok jich bylo 1407 a péče o ně něco stojí. "Denně mě to vyjde na 5 200 korun," má už Machař vypočítané. Při vyřčení částky ukazuje na stůl, na kterém jsou vyskládané léky. Ty tvoří jen část výdajů. Zvířata je taky potřeba nakrmit, zajistit jim podestýlku a celkové pohodlí.
Kde se peníze berou? "Část nám hradí krajský úřad, část magistrát a potom sponzoři, třeba CTP," nastiňuje milovník zvířat, jaká je jeho spojitost s CTP. Financovat celou stanici je náročné, i proto nemůže mít zaměstnaných mnoho lidí. O všechno se tu stará on sám s přítelkyní a jedním až dvěma dobrovolníky.
Žádní další zaměstnanci. A tak člověka napadne, jak to bude vypadat, až se Machař rozhodne odejít do důchodu. "Nevím, co se bude dít, moje děti po mně zálibu a tolik lásky a starostlivosti o zvířata nepodědily. Pořád mám ale naději ve vnukovi. Tak snad se tam zadaří. Byla by škoda, kdyby to tu úplně zaniklo," uzavírá s nadějnými výhledy do budoucna za hlasitého nadávání papouška, který se zrovna v kleci rozhodl hlasitě dožadovat krmení.
Zdeněk Machař
Sign up to our newsletter
Stay up to date with CTP's latest developments, industry insights, and exclusive offers by signing up for our newsletter. Join our community and be part of the future of industrial real estate.