Areál Spielberku bude "zelenější". Pomůže k tomu energetický management
Není to až tolik vidět, ale právě v těchto měsících se v areálu kancelářského centra Spielberk postupně odehrává zásadní rekonstrukce, která jeho provoz ovlivní na další desetiletí. Kdo by čekal stavební stroje, těžkou techniku a spoustu rachotu, ten by ale čekal marně. Rekonstrukce je totiž hlavně energetická, jejím cílem je snížit spotřebu parku, a v konečném důsledku tak omezit jeho uhlíkovou stopu.
Úpravy, do kterých majitel a provozovatel areálu, společnost CTP Invest, dává asi 40 milionů korun, povedou k tomu, že nakládání s energiemi bude možné jednodušeji řídit a celý provoz bude šetrnější. "Chceme být lídrem přechodu na provozně uhlíkově neutrální ekonomiku a v Brně jím určitě již jsme. Nejen že stavíme a rekonstruujeme budovy tak, aby byly šetrné k životnímu prostředí, ale také motivujeme jejich uživatele k ekologickému chování," líčí Jiří Kostečka, který za rozvoj aktivit CTP v Brně odpovídá.
Cíl? Menší spotřeba elektřiny
Energetická rekonstrukce Spielberku přinese hlavně úspory v množství potřebné elektřiny. Projekt zahrnuje výměnu běžného osvětlení za LED technologie, výměnu chladicí jednotky a vzduchotechniky, zapojení solárních panelů nebo novou výměníkovou stanici. Ročně se tak uspoří až 965 MWh energie, což představuje snížení emisí skleníkových plynů o 872,97 tun za rok. "Všechno bude navíc napojeno na systém energetického managementu, který umožňuje operativnější využívání energie přesně tak, jak je v daný moment třeba," vysvětluje Jiří Pech ze společnosti PKV, která inovace v areálu navrhla a bude na ně dohlížet.
Podle jeho slov je projekt ve Spielberku ideální svojí velikostí, protože umožňuje dělat komplexní změny, které mají opravdu efekt. Správci velkých kancelářských areálů totiž přirozeně narážejí na to, že v různých patrech budov je různě intenzivní provoz, který se mění v závislosti na ročním období nebo i aktuálních projektech jednotlivých firem, což má samozřejmě vliv na spotřebu elektřiny a dalších zdrojů.
"V jednotlivých budovách je různě intenzivní provoz, což má vliv na spotřebu energií. Nové technologie si s tím ale umí poradit a pracovat šetrně."
Právě proto je energetický management důležitý. Dřív postavené areály ho nemají, takže energie tečou neustále naplno, jejich tok není možné ovlivňovat. "Dnešní technologie už ale umí vyrovnávat energetické špičky. Například chladicí zařízení už si svůj chod zvládnou rozložit, takže se předpřipraví na vrcholy, kdy je na ně největší nápor, ale zároveň, když jsou nároky nižší, umí jít s výkonem dolů," líčí projektová manažerka Tereza Novotná.
Energetický systém Spielberku není ve stavu, že by rekonstrukci nutně potřeboval. CTP k ní ale přistoupila, protože chce neustále vylepšovat kvalitu zázemí pro firmy a starat se o to, aby provozem areálu nepřispívala ke globálním klimatickým problémům. Podle slov Jiřího Pecha je jasné, že podobně se budou muset zachovat i provozovatelé jiných kancelářských budov, jen se k tomu zatím třeba nedostali. Ve Spielberku už je teď nová výměníková stanice a rozjedou se výběrová řízení na dodání jednotlivých technologií.
Žádné rychlokvašky. Dlouhodobé projekty
Projekt modernizace a snížení energetické spotřeby areálu je součástí dlouhodobé strategie CTP Invest, která zahrnuje mimo jiné to, že firma nové i starší nemovitosti postupně certifikuje podle enviromentální certifikace BREEAM nebo WELL. Kancelářský areál Spielberk s deseti budovami a zhruba 4000 pracovními místy by se také postupně měl přeměnit na oblast s nulovým netříděným odpadem. Z analýzy, kterou provedl Institut cirkulární ekonomiky, vyplývá, že při správném třídění odpadu by se jeho produkce měla snížit z 302 tun na pouhých 55 tun ročně. Teď se hledají cesty, jakými by to bylo možné co nejefektivněji zařídit. Pokud se strategie nulového netříděného odpadu v areálu osvědčí, plánuje ji CTP Invest postupně zavádět také v průmyslových parcích.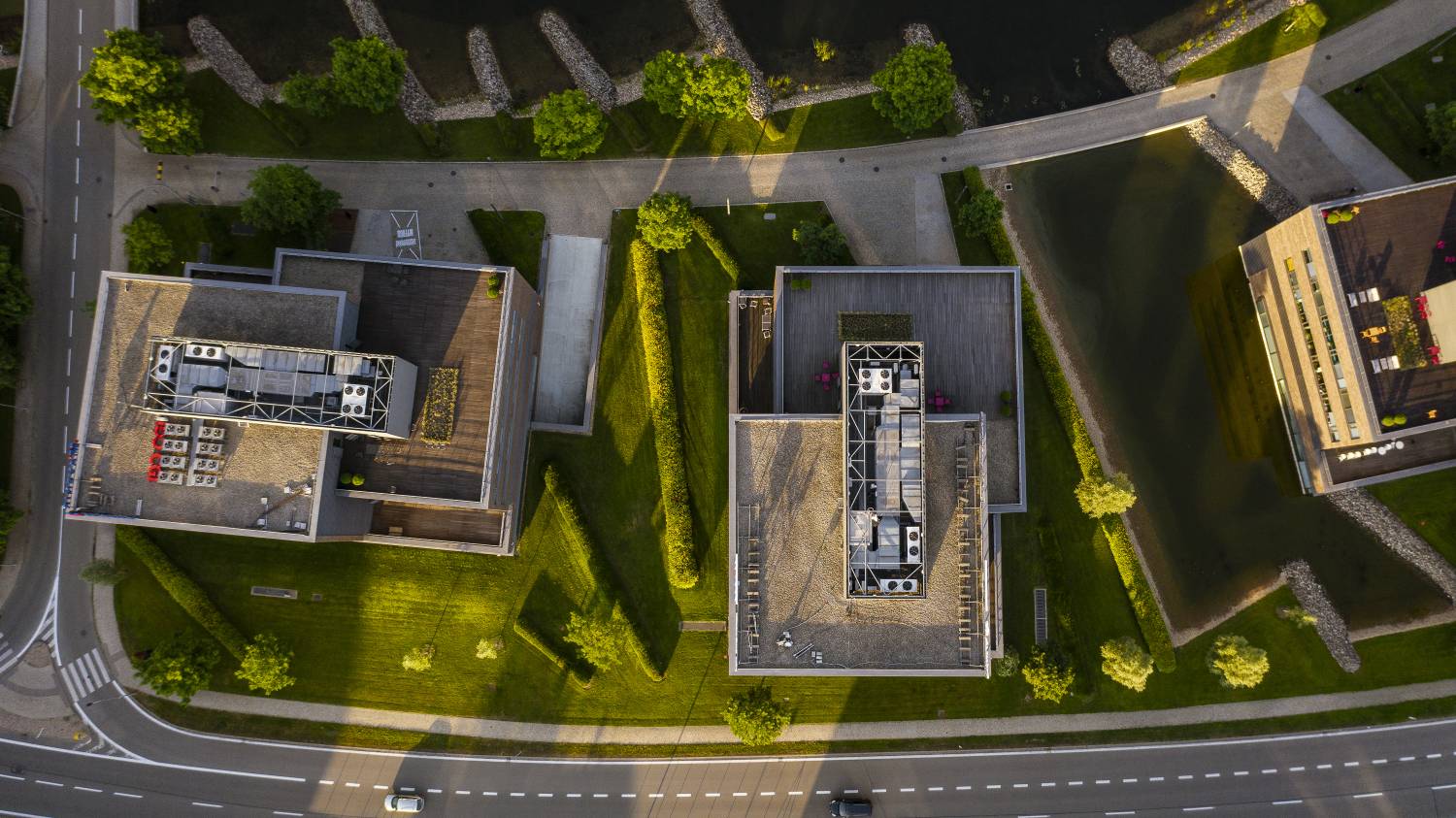 Sign up to our newsletter
Stay up to date with CTP's latest developments, industry insights, and exclusive offers by signing up for our newsletter. Join our community and be part of the future of industrial real estate.